Japan's Abe Secures Passage of Secrecy Law as Opposition Revolts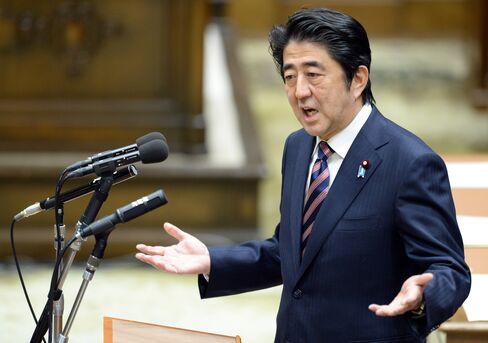 Prime Minister Shinzo Abe secured final passage of a bill granting Japan's government sweeping powers to declare state secrets, a measure aimed at shoring up defense ties with the U.S. that prompted a public backlash and revolt by the opposition.
The upper house of the Diet gave final approval of the measures in Tokyo late yesterday after opposition parties first forced a no-confidence vote in Abe's government in the lower house. The wrangling over the bill forced the government to extend the parliamentary session, due to end yesterday, for two more days.
The bill, which forms part of Abe's broader push to strengthen Japan's defense policy in the face of China's military assertiveness, stiffens penalties for bureaucrats who leak secrets and journalists who publish them. It gives government officials the power to define what constitutes a state secret under categories from defense to diplomacy, terrorism and safety threats.
"There is rationale in the secrecy bill, but the government has been too hasty and has lacked efforts to provide a framework for information disclosure which is the flip side of secrecy," said Hidenori Suezawa, a financial market and fiscal analyst at SMBC Nikko Securities Inc.
Abe offered to create additional oversight boards to try to address criticism that the law would allow the government to potentially hide any type of information from public scrutiny.
Media Criticism
The measure, criticized by much of Japanese media, has prompted rare public protests. Thousands of demonstrators gathered outside parliament this week, while the ending of debate on the law sparked an outcry from opposition lawmakers.
Hideaki Igarashi, 40, who works for a trading company and was among the protesters outside parliament on Dec. 5, said he opposed the law because too much information could be classed as secret without external checks. "It looks odd that they're rushing it," he said. "If it was a good thing they could take time over it."
The approval rating of Abe's government fell 4 percentage points from a month ago to 49 percent, the first time it dropped below 50 percent since Abe's election almost a year ago, according to a recent poll by the Asahi newspaper.
Information Leaks
Half of those surveyed opposed the bill that punishes leaks of government information with jail terms of as much as 10 years. The newspaper polled 1,001 people by phone Nov. 30 to Dec. 1 and didn't give a margin of error.
Public criticism heightened after Shigeru Ishiba, secretary general of the LDP, wrote a blog post Nov. 29 likening those who demonstrate against the bill to terrorists.
Abe prioritized the secrecy bill over pending economic measures aimed at ending 15 years of stagnation, reflecting growing regional tensions as China asserts itself. With the Diet not reconvening until January, it will take weeks or months for Abe to advance the "third arrow" of his economic plan after the monetary easing and fiscal stimulus that revived growth and drove stock market gains.
"Abe must offset the negative impact of the secrecy bill on his approval rating by sticking to economic policies," said SMBC Nikko Securities' Suezawa. "I expect a deeper commitment to the three arrows next year."
The bill passed less than two weeks after China established an air defense zone over a large swathe of the East China Sea that includes islands at the heart of a territorial spat between Asia's two biggest economies. The law will strengthen Japan's security alliance with the U.S., which has pushed for stricter controls on information to bolster intelligence sharing.
As part of his security push, Abe also set up a National Security Council modeled on the NSC in the U.S. to better coordinate defense policy. He's considering reinterpreting the U.S.-imposed pacifist constitution to be able to more freely use the country's defense forces. U.S. officials have supported Abe's push for collective self-defense and said they welcome the secrecy bill.