How Higher Labor Costs Could Bite Into Fast-Food Profits
Minimum wage is getting maximum exposure.
Fifty-three Congressmen have signed a letter sent to fast food companies Burger King Worldwide Inc. (BKW ), Domino's Pizza Inc. (DPZ ), McDonald's Corp. (MCD ), Wendy's Co. (WEN ) and YUM! Brands Inc. (YUM ), calling on them to raise employee pay above the current minimum wage set by states. The President agrees, and he'd even support a new national rate of $10.10 per hour.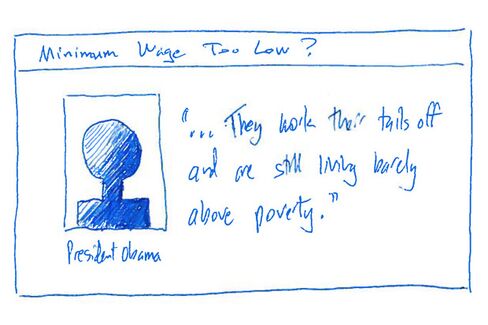 Curiously, 35 states currently pay more in weekly jobless benefits than could be earned working a forty-hour week on minimum wage, according to data collected by Bloomberg. In other words, people are better off not working than taking minimum wage jobs.

Consider Florida, where the discrepancy is widest. Weekly benefits of $521.91 equate to $13.05 an hour, 67 percent more than the state's minimum wage of $7.79.
Fast food workers staged protests in 100 cities yesterday. If in fact restaurants find themselves increasingly under a harsh spotlight, they may be forced to act... unless Congress beats them to it. The questions facing investors: Ho
w much would higher labor costs hurt profitability, and which companies are most vulnerable?
Looking at seven national fast food chains, we see that profitability varies considerably. We use annual sales per employee as our proxy.
While Panera Bread Co. (PNRA ) tops the list at $115,000, Wendy's annual sales per employee is just $57,000. Since each Wendy's employee effectively sells "half as much food" as each Panera employee, Wendy's labor cost structure is roughly double Panera's. Potentially higher labor costs would therefore have a disproportionate impact on margins... and profitability.
Considering that Wendy's stock has rallied 83 percent this year and trades at a valuation nearly double that of the S&P 500 (it's price-earnings ratio is 29, based on estimated 2013 earnings, versus 15.5 for the index), we wonder whether the kitchen has gotten a little too hot. Based on the data, we could say the same of McDonald's and Jack in-the Box Inc. (JACK ).