Campbell Soup Options Contract Hits Record as Stock Rallies 5.8%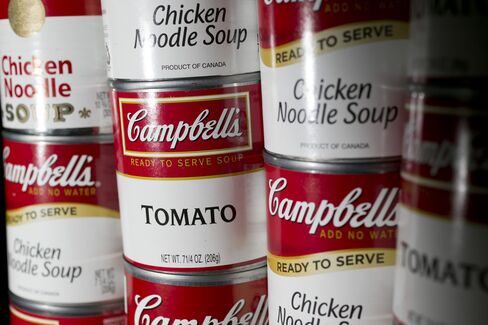 Campbell Soup Co., the foodmaker whose shares have been the subject of takeover speculation, saw record volume in a series of bullish options that expire in two weeks.
More than 20,000 contracts of $43 December calls on Campbell Soup changed hands yesterday, compared with an average daily volume of about 60, according to data compiled by Bloomberg. The shares rallied 5.8 percent to $42.43, the biggest advance since 2008.
Campbell Soup shares climbed 38 percent from the start of the year through May 15, the months surrounding the $23 billion takeover of H.J. Heinz Co. by Berkshire Hathaway Inc. and 3G Capital. The soupmaker that started as a vegetable canning company after the U.S. Civil War has seen sales slow as it loses market share to competitors such as Progresso maker General Mills Inc.
"It's a classic example of what takeover speculation looks like in the options market," said Henry Schwartz, president of Trade Alert LLC, a New York-based provider of options-market data and analytics. "It's the busiest day for out-of-the money call volume we've ever seen."
Carla Burigatto, a spokeswoman for the Camden, New Jersey-based company, said the company doesn't comment on market speculation.
Call Volume
About 46,000 call options traded on Campbell Soup, the most in a year and compared with a 20-day average of 1,460, data compiled by Bloomberg show.
A trader bought 12,000 December $43 calls at approximately 12:48 p.m. in New York, according to data compiled by Bloomberg and Trade Alert. The contracts, which were purchased for 15 cents to 20 cents, will be profitable if the stock rallies above $43.20 before the Dec. 20 expiration. The calls jumped to 80 cents from 2 cents yesterday.
"The options call volume is more than 10 times the norm today," Christopher Rich, head options strategist at JonesTrading Institutional Services LLC in Chicago, said in a phone interview. "That's telling me that there's something going on. People remember when there was a large call buy in Heinz options right before there was a bid for the company."
In October, two brothers agreed to pay $5 million to resolve U.S. Securities and Exchange Commission claims that they used confidential information to make options trades ahead of an announced deal to buy Heinz. Michel Terpins and Rodrigo Terpins turned a profit of more than $1.8 million from trades placed the day before the acquisition, the SEC said in a statement.
Campbell rallied for four days starting on Feb. 14, 2013, when Berkshire Hathaway, controlled by billionaire investor Warren Buffett, agreed to buy Heinz. It gained more than 6 percent the day the deal was announced, its biggest intraday advance in more than four years.
Before it's here, it's on the Bloomberg Terminal.
LEARN MORE