A Lucrative Promise for India's Men: Whiter Skin
Lightening creams, popular with the nation's women, now target guys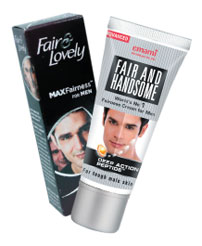 In some respects, India resembles any developed market, from the high-rises of Mumbai to the ubiquitous cell phones seen in remote villages. But modernization hasn't eliminated age-old beliefs linking fair skin to a higher caste and superior lineage. In a recent television ad for personal-care product maker Emami's Fair and Handsome skin-lightening cream, Bollywood idol Shah Rukh Khan suggests the cream helped his film career.
Such pitches for whitening creams for men have been particularly successful in villages, where personal-care companies sell credit-card-size plastic sachets of lotions for as little as 6 rupees (about a dime). Rural markets contribute significantly to "volume sales" and are an important factor for driving growth, Emami said in a statement. "People in the cities have more options and are better educated," says Naveen Vyas, an analyst at Microsec Capital in Kolkata. "It's the rural market that is most important for fairness creams. It's a very big market that nobody can afford to ignore."
Unilever's local unit has sold its Fair & Lovely brand lightening creams to women since the 1970s. To boost sales in a country that slathered on 258 tons of whitening lotions last year, the Anglo-Dutch giant is among skin-care brands ramping up efforts to hook men. They're playing catch-up with Kolkata-based Emami, which leads in men's fairness products. In ads on prime-time TV, Khan urges men not to raid women's dressing tables in their quest for fair complexions. Real men are tough and don't use brands called "lovely," the ads say.
The quest for whiter skin runs deep in India. MidasCare Pharmaceuticals in 2012 began selling its Clean and Dry intimate wash that promises women a "fair" look for their vaginas. And on shaadi.com and bharatmatrimony.com, the nation's two biggest matchmaking websites, users can screen by complexion—dark, fair, wheatish, and very fair. "We definitely see a large segment where complexion matters" for both brides and grooms, says Gourav Rakshit, chief operating officer of shaadi.com. Skin-care sales in India grew about 20 percent this year, to $1.2 billion, according to analysts surveyed by Bloomberg, with whiteners comprising about a quarter of that market. Emami introduced its Fair and Handsome cream in 2005; Unilever's men's line followed in 2006, and L'Oréal's Garnier unit launched its PowerLight men's product in 2009. Analysts say men now account for 10 percent of fairness cream sales.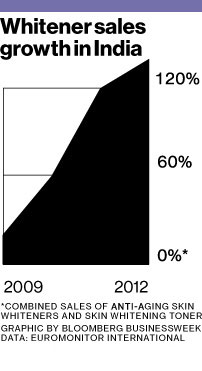 Nilay Kanti Das, a professor of dermatology at the Medical College and Hospital in Kolkata, says ads for the products reinforce racial biases and convey the idea that people with fairer skin are more successful. "Such ads should be removed from society," he says. The companies see things differently. "Our communication does not in any manner promote social discrimination based on skin color," Hindustan Unilever said in an e-mailed statement. Fairness products are similar to Western brands that offer tanned skin, the company said.
Most Indian fairness creams use niacinamide, a vitamin B derivative obtained from poultry and fish, as the key ingredient. The compound works by slowing the production of melanin, a dark pigment produced by skin cells exposed to sunlight. The creams lighten the skin temporarily by blocking an enzyme required for this process, but the effect wears off after a few hours.
L'Oréal's skin-lightening moisturizers and face washes work by cleaning pores, absorbing oil, and protecting against the sun, says Satyaki Ghosh, director of consumer products at the company. "Intense fairness is like anti-aging," he says. "It does not mean that you'll get a job, you'll get a wife. In no advertising have we ever said that fairness makes you better."
Still, booming demand for such products has helped Hindustan Unilever's revenue rise an average of 15 percent annually for three fiscal years, data compiled by Bloomberg show. Emami's has increased on average 29 percent each year since 2007.
Whitening cosmetics have a following in other parts of Asia, such as Japan and Thailand. The stock price of Kao, Japan's biggest maker of toiletries, plunged in July when a unit recalled products containing skin-whitening component rhododenol after thousands of complaints about blotches or lost pigmentation.
Das says he's seen patients with acne, spots, and skin damage from constant use. "The pigmentation on our face is a protective mechanism to protect us from the scorching heat of the sun, and if you want to eliminate that, your body will be damaged," he says. Hindustan Unilever in its statement said its studies show Fair & Lovely is safe and effective when used as directed and the impact is reversed once usage is discontinued. Emami declined to comment about the nature of its advertisements or the contents of its creams. But its website says Fair and Handsome is safe for all skin types.
Before it's here, it's on the Bloomberg Terminal.
LEARN MORE