LaBute's 'Shape of Things' Revived With Ice Maiden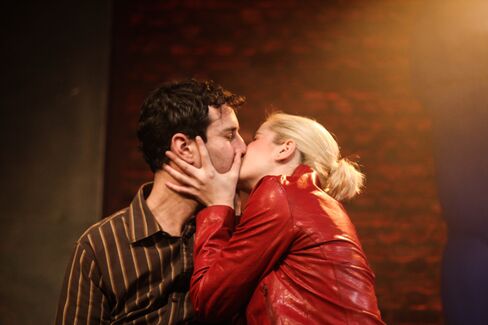 It seems the most unlikely student romance. Adam is a shy geek. Evelyn is sexy and super-confident.
She says he's cute, then jumps into his life and his bed. He's surprised, his friends even more so -- and quite probably the audience watching this, Neil LaBute's "The Shape of Things."
The plot isn't the easiest to pull off, especially as the nerd becomes a hunk. Sean McConaghy, playing Adam, rapidly sheds a bad haircut, old coat, preppy glasses and inhibitions.
Anna Bamberger is stunning in the equally difficult role of art student Evelyn, convincing us that she loves Adam and simply wants to mold him into an ideal boyfriend.
As she gets more manipulative, she lets the ice-maiden mask slip, with tears in her eyes during one heated exchange.
Adam's former room-mate Phillip (Sean Browne) is a simpler soul, though he gets some of the best lines -- "I may have a big mouth, but at least I keep it to myself." His fiancee Jenny (Harrie Hayes) is left to do little but complicate matters. Partners and accusations get swapped.
The quartet is a good match for the original 2001 cast at the Almeida not so far away across London, who went on to make the 2003 movie which is the yardstick for shows to match.
Samuel Miller's direction is pacey, though it has to be with a tragi-comedy that runs without interval for 90 minutes.
What's it about? Religion, art, relationships? Above all, it's about what Evelyn calls "people's obsession with the surface of things." Rating: ****.
"The Shape of Things" is at Arcola Theatre, 24 Ashwin Street, Dalston, London, E8 3DL, through Dec. 21. Information: http://www.arcolatheatre.com, +44-20-7503-1646.
What the Stars Mean:
 *****      Exceptional
 ****       Excellent
 ***        Good
 **         So-so
 *          Mediocre
(No stars) Poor
(Mark Beech writes for Bloomberg News. The opinions expressed are his own.)
Before it's here, it's on the Bloomberg Terminal.
LEARN MORE