Kazakh Bad Banks Would Cut Loan Delinquency, Kelimbetov Says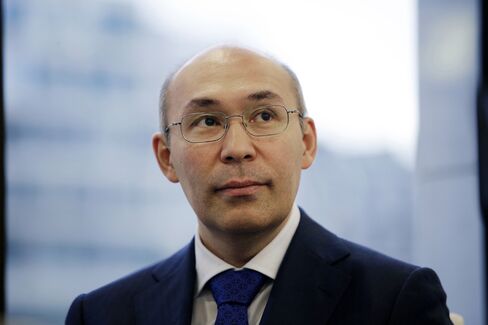 Kazakhstan needs bad banks to reduce the world's worst delinquency rate in its financial industry, central bank Governor Kairat Kelimbetov said.
Kelimbetov, who took over the Astana-based regulator in October, said that his main mission is to help transform the banking industry's "architecture," which proved vulnerable in the financial crisis. His goal to cut the non-performing loan ratio by two thirds to 10 percent is realistic by January 2016, he said in a Dec. 4 interview in London.
To complement an existing distressed-asset fund, "we have to establish bad banks to pass the bad debt to special collector agencies," he said. "Banks should be responsible for their core business of providing loans and they also have to clean up their balance sheets. Otherwise, there will be zombie behavior by the banks, not providing loans to the economy and not writing off these bad loans."
A collapse of property prices four years ago in the central Asian country saddled banks with billions of dollars in delinquent loans, triggering defaults and forcing the government to take over Alliance Bank, Temirbank and BTA Bank. Kazakhstan had the world's highest share of non-performing loans in 2012 at 31.7 percent, leading the rankings for a second year, World Bank data show.
The government should provide tax breaks to banks and the debt-ridden companies as incentives to shareholders and management to resolve delinquencies, Kelimbetov said.
Bank Stakes
Samruk-Kazyna, the country's sovereign wealth fund, is seeking to sell stakes in Kazakh banks. It owns a 79.9 percent stake in Temirbank, 67 percent in Alliance Bank and 97.3 percent of BTA. The fund is considering a sale of its entire holding in Temirbank and 16 percent of Alliance Bank, to Kazakh billionaire Bulat Utemuratov, Interfax reported Nov. 20.
Several potential buyers are examining BTA's finances, and while the sale probably won't be completed in 2013, the most likely bidders may become known before year-end, said Kelimbetov, the former chief executive of Samruk-Kazyna.
A decision about any debt restructuring at Alliance Bank will be made during talks between Samruk-Kazyna and the lender's new shareholders, Kelimbetov said. Samruk-Kazyna is planning a meeting with Alliance's creditors early next year, he said.
Bond Plans
Kazakhstan, which has no outstanding foreign-currency denominated debt, may offer five-, 10- and 30-year bonds to international buyers next year "to establish benchmarks" for a government yield curve, which would facilitate borrowing by state-owned companies and private banks, Kelimbetov said.
"The idea is to measure the appetite for the bonds of Kazakhstan," he said. "I think next year is a good time to do it."
The Kazakh tenge will depreciate 2.3 percent versus the dollar this year and the central bank "is comfortable with this," he said. "This is a competitive level."
The currency has lost 2.5 percent this year and traded little changed at 154.24 per dollar at 4:41 p.m. in Astana.
Gross domestic product will grow 6 percent this year and between 6 percent and 7 percent in the next three years, Kelimbetov said.
Inflation is averaging about 6 percent this year, within the central bank's target, and will probably prompt policy makers to "reconsider" their 5.5 percent benchmark interest rate, Kelimbetov said. Price growth will remain between 5 percent and 8 percent through 2016, he said.
The central bank is also seeking ways to improve the "transmission mechanism," or the impact interest-rate changes make on the real economy, Kelimbetov said. The bank is in talks with commercial banks about other ways of easing credit, such as through "repo operations or credit auctions," he said.
Before it's here, it's on the Bloomberg Terminal.
LEARN MORE