Jobless Claims in U.S. Unexpectedly Drop to Two-Month Low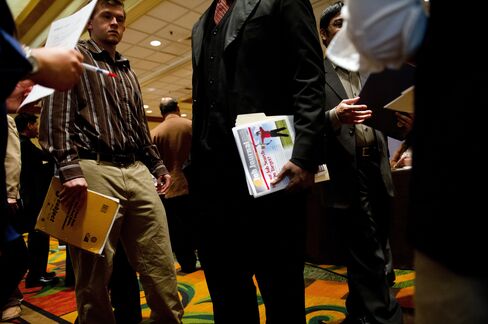 Applications for U.S. employment benefits unexpectedly fell last week to the lowest level in more than two months as the data becomes more difficult to adjust for seasonal variations during the year-end holiday period.
Jobless claims decreased 23,000 to 298,000 in the week ended Nov. 30, the Labor Department said today in Washington. The median forecast of 41 economists surveyed by Bloomberg called for an increase to 320,000 from an initially reported 316,000 the prior week. The reading was the lowest since the first week in September when the Labor Day holiday also played havoc with the figures.
The data are difficult to adjust for seasonal variations around holidays, so it's not unusual to see increased volatility at this time of year, a Labor Department spokesman said as the figures were released. Another Labor Department report tomorrow may show employers continued hiring in November, reinforcing that the job market is improving.
"The labor market continues to improve," said Brian Jones, senior U.S. economist at Societe Generale in New York, who at 307,000 had the closest projection of claims in a Bloomberg survey of economists. "Not only is the rate of layoffs slowing precipitously, more people are finding work."
Economists' estimates in the Bloomberg survey ranged from 307,000 to 335,000. The prior week's claims were revised to 321,000 from an initial reading of 316,000.
Growth Accelerates
Another report today showed the world's largest economy grew at a faster pace in the third quarter than previously estimated, reflecting the biggest surge in inventories in 15 years. Gross domestic product grew at a 3.6 percent annualized rate compared with the 2.8 percent pace calculated last month, according to figures from the Commerce Department.
A $116.5 billion jump in stockpiles at an annual rate, the biggest since the first quarter of 1998, contributed 1.7 percentage points to GDP last quarter, the report showed.
Stock-index futures fell after the reports, erasing earlier gains, as investors weighed the data to gauge the possible timing of a reduction in Federal Reserve stimulus. The contract on the Standard & Poor's 500 Index maturing this month dropped 0.1 percent to 1,789.7 at 8:52 a.m. in New York.
The four-week average of claims, a less-volatile measure than the weekly figure, fell to 322,250 from 333,000.
The number of people continuing to receive jobless benefits decreased by 21,000 to 2.74 million in the week ended Nov. 23, the fewest since December 2007.
Extended Benefits
Continuing claims don't include Americans who have exhausted traditional state aid and are receiving emergency and extended benefits under federal programs. Those job seekers rose by about 45,300 to 1.35 million in the week ended Nov. 16.
The unemployment rate among people eligible for benefits decreased to 2.1 percent in the week of Nov. 23 from a revised 2.2 percent the prior week.
Forty-eight states and territories reported an increase in claims, while five reported a decrease. These data are reported with a one-week lag.
Initial jobless claims reflect weekly firings and typically wane before employment growth can pick up. Federal Reserve policy makers are paying attention to the labor market as they consider scaling back their $85 billion-a-month bond-buying program, known as quantitative easing. Policy makers have said they might taper "in coming months" if the economy improves as anticipated.
Payroll Forecast
Employers boosted payrolls in November by 185,000 workers following a 204,000 gain the prior month, according to the median forecast of economists surveyed by Bloomberg before tomorrow's Labor Department figures. The jobless rate may have declined to 7.2 percent from 7.3 percent in October, the survey also showed.
Fed officials are scheduled to meet Dec 17-18 in Washington.
Unemployment and slow income growth could hamper spending during the critical holiday shopping season, shortened this year by a late Thanksgiving holiday. The expiration of extended unemployment benefits looms at the end of the year unless Congress acts, and reductions to the Supplemental Nutrition Assistance Program, or food-stamp benefits, could hurt some consumers.
"I don't need to spend much time on the challenges on our customers resulting from increased payroll taxes, the government shutdown, SNAP or EBT benefit reductions and the unusual holiday calendar," Bruce Efird, chief executive officer at Fred's Inc., a Memphis-based discount general merchandise store chain, said during a Nov. 26 earnings call. "Overall, the economy in the Southeast continues to be challenged with higher unemployment."
Before it's here, it's on the Bloomberg Terminal.
LEARN MORE