Banks Turn the Home Equity Spigot Back On
Rising property values spark a return to lavish renovations
A year ago, New Jersey contractor Michael Mroz's customers were focused on saving money when renovating kitchens and baths. Now, with a resurgence in home equity lending, they're ready to pay for the best. "People don't want granite countertops—they want marble costing at least 25 percent more," says Mroz, owner of Michael Robert Construction in Westfield, N.J., an affluent town less than an hour from Manhattan. "Money is so cheap today, people can splurge on $1,000 faucets."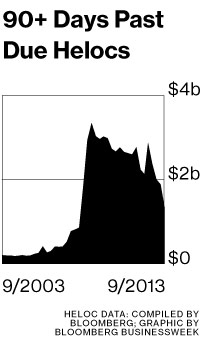 Spending on home renovations is hitting records as banks such as Wells Fargo and JPMorgan Chase increase lending for home equity lines of credit, or Helocs. New home equity lending could rise 16 percent this year to $91 billion and hit $97 billion next year, according to an estimate by Mustafa Akcay, an economist at Moody's Analytics. In 2007 banks issued a record $310 billion in Helocs, he says.
During the boom homeowners used Helocs to pay for cars, boats, and vacations. Often lenders allowed the loans to exceed property values by 25 percent on the assumption that home prices would only go up, according to Keith Gumbinger, vice president of HSH.com, a mortgage data firm. Banks have written off billions of dollars in Helocs, according to the Federal Deposit Insurance Corp. "These loans usually are in second-lien position, so they don't recoup any money until primary mortgage investors get all their money back," says Gumbinger. "The money just disappeared as home prices went down."
Now lenders are trying to be more careful. "If you walk into a bank today and apply for a home equity loan, they are going to want to know what you're using it for," Gumbinger says. "In addition to requiring you to have the best credit and retain at least 20 percent equity in your house, they want to know your intentions are good. No more using your home as a cash register to have some fun."
Renovation spending this year probably will rise to a record $146.1 billion from $126 billion in 2012, according to Kermit Baker, director of Harvard University's Remodeling Futures Program. That money is helping home improvement retailers such as Home Depot, which boosted its fiscal 2014 earnings forecast after reporting on Nov. 19 third-quarter profit that was 43 percent higher than a year ago.
Mroz, the New Jersey contractor, says most of his customers last year wanted crawl spaces instead of full basements under their additions to keep the bills down. He's now working on a two-story addition in Westfield that expands a home's kitchen and family room, and the owners asked Mroz to dig a full basement with an extra-high ceiling. The second floor of the addition has a dormer window. Instead of covering the roof with asphalt shingles, the customers upgraded to copper. "People aren't cheaping out anymore," says Mroz, "because more of them are getting Helocs instead of saving up cash."
Before it's here, it's on the Bloomberg Terminal.
LEARN MORE