Attack on Yemen Defense Ministry Leaves At Least 52 People Dead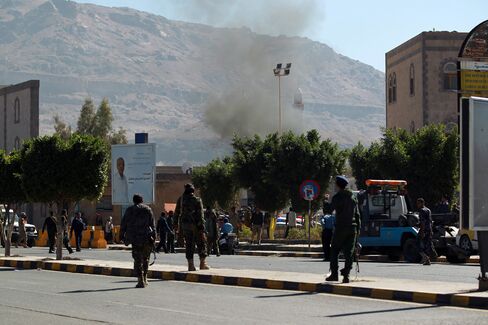 An attack on a hospital at Yemen's Defense Ministry left at least 52 people dead, in the latest sign of deteriorating security in the U.S. ally.
A car bomb exploded at the hospital in the capital, Sana'a, and armed men also attempted to storm the complex before they were repulsed by soldiers, the ministry said on its website. It said most of the attackers were killed. At least 167 people were also injured, including nine who are in a critical condition, while the dead included doctors and nurses from Germany, Vietnam and the Philippines, the Supreme Security Committee said late yesterday, according to the official Saba news agency.
The U.S. military stepped up its alert status in the region after the attack, and is ready to support Yemen, a senior U.S. defense official said, asking not to be identified because of the sensitivity of the situation. The incident "bears all the hallmarks of al-Qaeda," State Department spokeswoman Marie Harf told reporters in Washington. No one immediately claimed responsibility.
Security in Sana'a has deteriorated since popular unrest pushed President Ali Abdullah Saleh from office in 2011. Dozens of intelligence and security officials have been assassinated while al-Qaeda continues to attack government targets. The escalation of violence raises concerns that Saudi Arabia's southern neighbor could disintegrate into a failed state like Somalia or be plunged into civil war.
With rugged terrain and remote mountain villages where the government has little control, Yemen is a haven for al-Qaeda in the Arabian Peninsula, which includes Saudi militants who fled a government crackdown starting in 2004.
'Can't Rule'
"There is a weak government that can't rule a country like Yemen," Mustafa Alani, an analyst at the Gulf Research Center in Geneva, said in a phone interview.
Yemen-based militants have targeted Saudi Arabia and the U.S. Al-Qaeda said an assassination attempt against Prince Mohammed bin Nayef, now the Saudi interior minister, in August 2009 was planned in Yemen. An attempt to parcel-bomb American synagogues also originated there.
German Foreign Minister Guido Westerwelle, who confirmed the death of two Germans in the attack, said in an e-mailed statement yesterday that Yemen can't be allowed to become a "den of terrorism."
Saudi Arabia and the U.S. negotiated an end to 11 months of protests in Yemen two years ago and led a push for donors to provide $6.4 billion in aid to the poorest country in the Middle East. That included a pledge of $3.3 billion from Saudi Arabia, the Arab world's biggest economy.
'Less Interested'
Now, U.S. and Saudi leaders are "far less interested in Yemen" as they grapple with the civil war in Syria and political upheavals in Egypt, Alani said. "The problem is that the instability in Yemen will spill over sooner or later. This neglect is very dangerous."
Foreign nationals in Yemen are increasingly being targeted. Last month, a Russian man was shot dead and three people were wounded in Yemen's capital, al-Arabiya reported. In July, gunmen abducted a Dutch couple working as freelance reporters and teachers from the capital's streets. The two, who have lived in Yemen since 2011, are still being held.
The government on Oct. 26 started a campaign to tighten security in the capital and other cities by adding checkpoints and putting more troops on the streets.