Want to Look Great on Global Education Surveys? Test Only the Top Students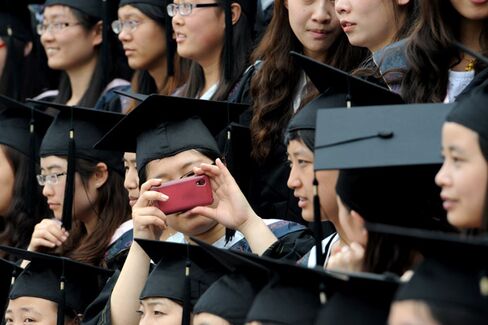 Once again, Shanghai students have outperformed their peers around the world, topping tests of mathematics, reading, and science in the annual OECD PISA survey of global education. And as before, U.S. students have scored well below average.
One more sign of how China is outcompeting everyone else? Time for more teeth gnashing? Keep this in mind: While the rest of the data aimed at presenting a countrywide picture of performance, that was not case with China. Instead, the PISA results covered only school children in one of China's richest, most elite cities.
The PISA survey tested more than 510,000 students in 65 "countries and economies," according to the OECD press release on Dec. 3. (PISA stands for Programme for International Student Assessment.) That included a total of 61 countries, the two special administrative regions of Hong Kong and Macau, Taiwan, and Shanghai.
Shanghai pupils indeed did do extremely well. They received a mean score in mathematics of 613, compared with the OECD average of 494 and 481 in the U.S. That put them the equivalent of nearly three years of schooling ahead of the OECD average. While math is where they really shone, Shanghai students also led the pack in reading and science.
There is, however, strong reason to believe Shanghai is not representative of China. Brookings Institution education expert Tom Loveless makes that argument convincingly in an October blog entitled "PISA's China Problem." (His blog came out before the latest PISA survey release. Loveless also kindly refers to an earlier story on the topic by us at Bloomberg Businessweek: "Chinese Education: The Truth Behind the Boasts," April 4, 2013.)
"How dissimilar is Shanghai to the rest of China? Shanghai's population of 23-24 million people makes it about 1.7 percent of China's estimated 1.35 billion people. Shanghai is a Province-level municipality and has historically attracted the nation's elites," writes Loveless.
"About 84 percent of Shanghai high school graduates go to college, compared to 24 percent nationally. Shanghai's per capita GDP is more than twice that of China as a whole. And Shanghai's parents invest heavily in their children's education outside of school," he points out. (For the last survey, in 2009, PISA gathered results from 12 provinces in China. It declined, however, to release data from anywhere except Shanghai, apparently at the behest of the Chinese government. It is still unclear how many provinces were included in this latest survey.)
One serious problem is that many local governments lack adequate funding for the social welfare benefits Beijing has ordered them to provide. That stems from the central government's decision in 1994 to have localities return the lion's share of their tax revenue to Beijing. The annual education expenditure per middle school student in 2010 in Beijing totaled 20,023 yuan ($3,204), more than six times the 3,204 yuan spent in the poor province of Guizhou, according to the Ministry of Education.
As we concluded in our earlier Bloomberg Businessweek piece: "The reality is China's students receive educations of greatly varying quality. Their parents often pay a lot for it, depending on where they live and how ambitious their choice of school—even though China is committed to a system 'implemented uniformly by the State,' with 'no tuition or miscellaneous fee,' according to the 1986 Compulsory Education Law."
In that same piece I interviewed Yang Dongping, one of China's foremost education experts and a professor at the Beijing Institute of Technology. He told me that rural families struggle to pay school costs as high as one-half their meager incomes while receiving usually substandard education. He mentioned imbalanced and overstressed education resources as the norm, with up to 130 students, for example, in country classrooms.
Also, worth considering is that the survey didn't cover the full population of 15-year-olds living in Shanghai. An estimated 500,000 children of migrant workers live in Shanghai. Without local hukou or household registration, most can't attend public schools and often end up in lower-quality private schools. Their plight is shared by another 20 million or so migrant children across the country.
"Everyone should place Shanghai's scores in proper perspective. Shanghai has an economically and culturally elite population with systems in place to make sure that students who may perform poorly are not allowed into public schools," writes Brookings Loveless in his blog. "No one will know how well China can perform on an international test until it participates, as a nation, under the same rules as all other nations."
Before it's here, it's on the Bloomberg Terminal.
LEARN MORE