Vongerichten's Spicy Crab Endangered by Sriracha Protests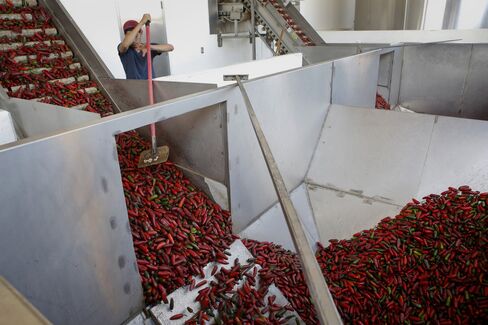 On days when thousands of jalapeno peppers are ground to make the hot, tangy sauce favored by chefs from New York's Jean-Georges Vongerichten to Los Angeles's Susan Feniger, fine red powder coats Dena Zepeda's silver Nissan and, when she's outside, collects in her ears.
Zepeda, 57, of Irwindale, California, said she was mystified in late August when glands between her jaw and her ears began to swell and hurt. It wasn't hard to draw a connection to Huy Fong Foods Inc., which turns peppers and garlic into its top-selling Sriracha Hot Chili Sauce less than 500 feet (150 meters) from her home.
A judge's order to cease operations causing odors at the plant threatens to push the closely-held company out of business, according to Chief Executive Officer David Tran. The company is part of the $1 billion-a-year hot-sauce industry, led by Tabasco bottler McIlhenny Co. and Frank's RedHot maker Reckitt Benckiser Group Plc, according to market-research firm IBISWorld. Closing the plant would cost Huy Fong 200,000 bottles a day of the sauce, the bulk of its production.
"My four sons all like sriracha," said Zepeda, who has lived in Irwindale for 40 years and petitioned her Los Angeles suburb to sue Huy Fong. "They tell me, 'Mom, what are you doing to them?' I tell them, 'It's not about what I'm doing to them, it's about what they're doing to me.'"
Stinging Eyes
Neighbors of Huy Fong's 628,000-square-foot (58,300-square-meter) plant began complaining a few months ago about pungent odors accompanied by stinging eyes, aggravated asthma symptoms and even nosebleeds, City Attorney Fred Galante said in an interview. The city traced the smell to Huy Fong's pepper-grinding, which typically takes place from about September to November, Galante said.
Irwindale, a city of 1,500 people about 20 miles (33 kilometers) east of downtown Los Angeles, sued Huy Fong on Oct. 21, demanding that it shut down the plant until the odor problem was fixed. Los Angeles County Superior Court Judge Robert O'Brien on Nov. 26 ordered Huy Fong to make the changes.
While acknowledging "a lack of credible evidence" linking the health complaints to plant emissions, the odors "appear as extremely annoying, irritating and offensive to the senses warranting consideration as a public nuisance," O'Brien said in a preliminary injunction.
Tran, 69, and other company officials declined to be interviewed. A security guard at the plant gave a reporter a two-page statement from Tran, who said Irwindale had "acted severely toward us without a real investigation."
'Tear Gas'
After some complaints compared the odor to capsaicin, an ingredient in pepper spray, the company hung a pair of banners in front of its beige-and-green plant: "No Tear Gas Made Here."
Tran grew up in Vietnam and immigrated to the U.S. in 1979. He named the company for the ship that carried him. The rust-colored sauce, packaged in a clear squeeze bottle with a green cap, is decorated with a rooster, the symbol of Tran's birth year. The company expanded into its Irwindale plant from nearby Rosemead as its popularity grew.
Vongerichten, who holds three Michelin stars at Jean-Georges in New York, uses sriracha sauce to spice up mayonnaise he mixes with peekytoe crab meat atop sourdough toast. Feniger, founder of Los Angeles's Border Grill, incorporates the sauce into her deviled eggs.
The sauce is made with chili, sugar, salt, garlic and vinegar.
Hot, Sweet
"The first thing you get is a little heat, but it balances out with some sweetness," said Scott Drewno, executive chef of The Source, Wolfgang Puck's modern Asian restaurant in Washington. "People like the hot and sweet together."
Drewno, named chef of the year by the Restaurant Association of Metropolitan Washington in 2010, uses sriracha in his top-selling appetizer, Spicy Tuna Tartare served in sesame-miso cones. If his sriracha supply were disrupted, he'd make his own, though it would probably cost more, he said in a telephone interview.
Arnold Vasquez, 40, who lives in a single-story bungalow about 200 feet (60 meters) from the Huy Fong plant, said he likes the taste of sriracha sauce. It's the smell, and the effect on his throat and nose, that bothers him.
"If you have people over, outside barbecuing, some people will leave because it bothers them too much," Vasquez said in an interview at his house. "With a little breeze, it irritates your throat, your nose. We're just worrying about whether it's a smell we're going to have to live with."
New Business
Across the street from Huy Fong's plant, the owners of Donlen's Liquor store say they and their customers don't mind the smell and are happy to have a new business in the neighborhood.
Located at the base of the San Gabriel Mountains, Irwindale has a median household income of $45,000, according to the city's website. Just 1 percent of the city's area is occupied by homes and apartments, with the largest share devoted to industrial uses such as sand and gravel mining, according to the website.
"They've helped clean up the neighborhood -- a lot of local people work there," said Eui Bok "Bob" Whang, a Korean immigrant who has run the liquor store with his wife, Young Whang, for 28 years. "People complain. Everyone complains. It doesn't bother me at all."
The case is City of Irwindale v. Huy Fong Foods Inc., BC525856, California Superior Court, County of Los Angeles.
Before it's here, it's on the Bloomberg Terminal.
LEARN MORE