Is JC Penney Giving Away the Store?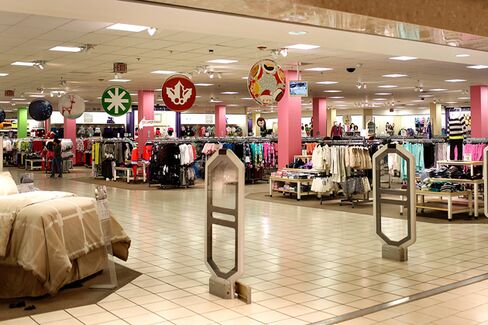 JC Penney appears to be slowly getting back on track. The long-struggling department store said sales at stores open more than a year increased 10 percent last month and e-commerce was "well ahead of last year."
That was the second consecutive monthly uptick for the Texas-based company after a sales slump stretching almost two years. And it's a relatively big number—two whole digits! Lately, when JC Penney strays beyond a single decimal point, there tends to be a negative sign involved. So why were investors so unimpressed? JC Penney shares dropped almost 5 percent since yesterday. One theory: They fear that Chief Executive Officer Myron Ullman is just giving merchandise away.
Ullman has been very vocal about bringing back the company's promotion-heavy strategy after his predecessor Ron Johnson posted disastrous results by trying to do away with discounts. The thing about a monthly sales report, though, is that it never mentions profit. And JC Penney is a far cry from Amazon.com: A department store can't just squeeze margins to zero and play the long game of taking over the retail world with a fleet of drones, and it still has to worry about selling overall shorts (clearance $11.99), wedding dresses ($64.99) and cheap suits ($90).
The monthly report also gave no details on traffic. How many people actually came into the stores?
Morningstar analyst Paul Swinand said he has no idea how much JC Penney is sacrificing in profit for volume, but he's counting the recent update as a small sign of progress. "They've always done these crazy sales," he said in an e-mail. "Can't say margins will be good, but I'm tilting positive in that at least customers are responding."
Before it's here, it's on the Bloomberg Terminal.
LEARN MORE