Buying Begets Buying, or Why the Bulls May Be Right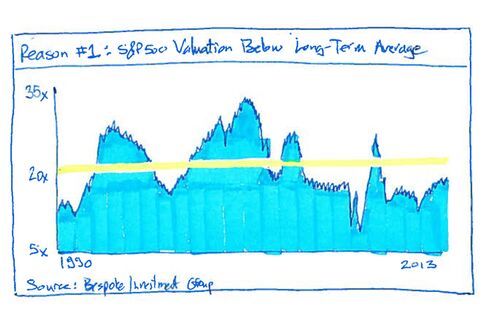 Two strategists this morning lay out the case for why they're buying stocks, even after this year's advance of more than 25 percent. Ordinarily we'd attribute this to bulls blinded by dollar signs coming into year end, though in this case the data is compelling.
First, the current trailing 12-month price-to-earnings ratio of 16.9x is lagging behind the longer-term average of 19.7x, suggesting stocks are cheap by historical standards.
Paul Hickey shared the data with clients to refute what he describes as "so much bubble talk lately our heads are spinning." He noted that nine of ten industries are also below their respective long-term valuations. Only utilities trade above historic norms -- hardly a "bubbly" sector.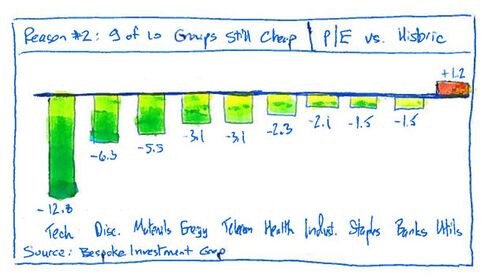 Reluctant bulls who fear they've missed this year's rally will appreciate Bloomberg's Chart of the Day. Riverfront Investment Strategist Rod Smyth points out that of the 17 years since WWII when broad market gains exceeded 20 percent, 14 were then followed by another year of gains. The average gain in the following year was just over 11 percent. In other words, buying begets buying.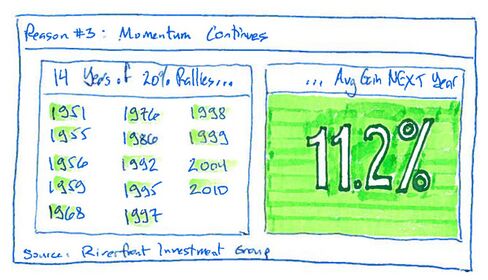 Besides, the current rally is intact, and every dip has proven an opportunity to buy. The point here: pick your spots and stay with the trend.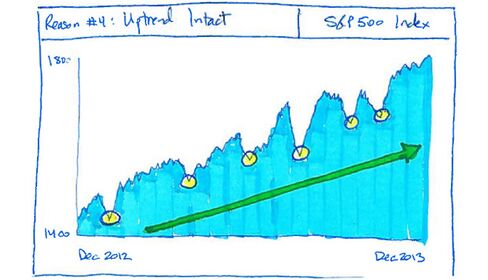 Finally, hedge-fund manager David Tepper, founder of Appaloosa Management, said in a conversation with fellow anchor Stephanie Ruhle about two weeks ago:
"I would be worried if I were a long-short equity manager and not long enough -- but I am long, so I'm not worried."
Tepper is up nearly 50 percent so far this year, double the gains for the S&P 500.