Budget Negotiators Seeking to Avoid Shutdown Near Deal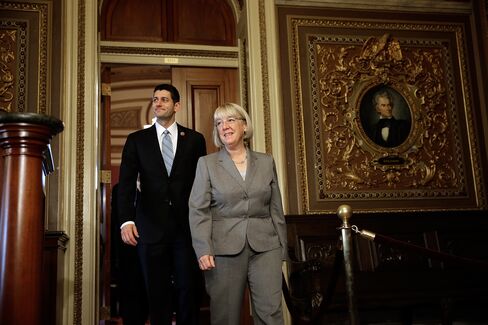 U.S. budget negotiators are near a deal in which Democrats would accept fresh revenue from user fees and Republicans would agree to more federal spending, steps that could avoid another government shutdown next year.
The two leaders of the 29-member bipartisan panel aiming to reach an agreement on budget savings to replace some automatic spending cuts set to start in January are hatching a narrow deal in which both parties would have to compromise.
The negotiators are seeking to boost domestic and defense spending by $65 billion over two years to soften the blow from mandatory spending cuts on the Pentagon and programs including scientific and medical research and services to feed poor children, according to an aide close to the talks. It would be paid for with $80 billion in cuts over the next 10 years, pushing off the most painful reductions to future years.
Negotiations are continuing and "there are still issues to be resolved," Senate Budget Committee Chairman Patty Murray, a Washington Democrat, said today.
Instead of ending some corporate tax breaks, as Democrats prefer, revenue would come from raising user fees, including for airline passengers. Republicans would accept higher spending levels than scheduled under current law, according to congressional aides.
With both parties eager to avoid another shutdown, the emerging deal gives them a framework to reach an agreement on government spending -- either by the budget panel's Dec. 13 deadline or before federal spending expires on Jan. 15.
Cap Spending
A budget accord would probably cap spending at about $1 trillion, instead of $967 billion, through automatic spending cuts known as sequestration and endorsed by House Republicans, Cole said. Democrats set a $1.058 trillion cap in their plan.
The developing deal doesn't include an agreement to raise the nation's borrowing limit, another potential fiscal showdown Congress faces early next year.
Republicans also may offer to continue expanded unemployment insurance benefits, which expire on Dec. 31, to close a deal with Democrats, according to a Republican aide who requested anonymity because the talks are private.
Another item being discussed is giving the U.S. Postal Service flexibility to reduce costs, according to an aide close to the talks, most notably by ending Saturday mail delivery.
Opposition to a compromise that erases scheduled spending cuts emerged from a group of at least 18 House Republicans. They wrote to House Speaker John Boehner asking for a spending bill of $967 billion as part of sequestration and takes a swipe at the emerging deal's reliance on fees to offset the cuts.
Seeking Leverage
"Democrats are not interested in solving the problems created by the sequester," said Republicans including Representative Steve Scalise, chairman of the Republican Study Committee. "They are only interested in using the threat of the cuts as leverage to increase spending across the board, to increase our national debt, and to raise taxes and fees."
The deal also may draw opposition from Democrats concerned that proposals being considered would increase the contribution that federal workers make to their pension plans.
"Federal employees have become the whipping folks for whenever there's a need for money or some kind of offset," said Representative Elijah Cummings, a Maryland Democrat whose district is near the nation's capital. "It's totally unfair."
The party's House leaders, including Representative Nancy Pelosi of California, also spoke out against such cuts in a meeting today among top Democrats, Cummings said.
'Dead Set'
"Pelosi sounded like she was dead set against any more takeaways from federal employees," he said.
"Be skeptical of the latest rumor and the notion that this could be funded substantially by further cuts for federal employees," said Representative Sander Levin, a Michigan Democrat.
The fragile nature of the potential deal is demonstrated by some lawmakers from both parties who say the plan may not have enough support, particularly in the House. To become law, the accord would have to be approved by the budget panel and then secure passage in both the Republican-led House and the Democratic-led Senate.
Boehner, an Ohio Republican, said on the floor today that Republicans have made "good faith" offers to Democrats on the budget and other issues, including the farm bill. Democrats, he said, are standing in the way of reaching deals.
"When will they learn to say 'yes' to common ground?" Boehner said. "When will they start listening to the American people?"
Murray, Ryan
Congress on Oct. 16 passed legislation funding the government through Jan. 15 as part of the agreement to end a partial shutdown, the first in 17 years. Murray returned to Washington this week while the Senate is on a break to continue negotiating with conference co-chairman Paul Ryan, the Wisconsin Republican who heads the House Budget Committee.
Republicans especially want to avoid a spending standoff after the party's approval ratings plunged to a record-low 9 percent after the 16-day shutdown in October, according to Gallup Organization polling.
Before it's here, it's on the Bloomberg Terminal.
LEARN MORE