Thai Protesters to Pause Bangkok Rallies for King's Birthday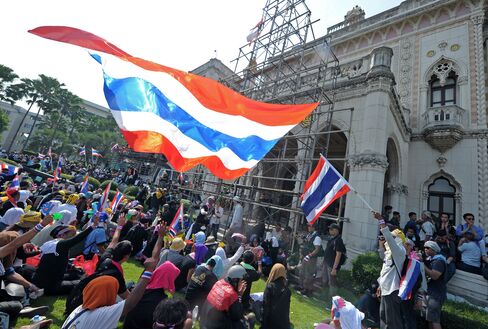 Anti-government protesters in Bangkok said they will suspend street rallies tomorrow to mark the birthday of Thailand's king, before resuming a push to oust Prime Minister Yingluck Shinawatra.
"From December 6 we will resume the fight every day, every hour and every minute until we achieve victory," protest leader Suthep Thaugsuban said. He has called for the government to be replaced by an unelected council to combat corruption and destroy the political network of Yingluck's brother, Thaksin Shinawatra, who was toppled by a military coup in 2006.
The police removed barriers around their national headquarters today, repeating a strategy that helped avoid clashes at Government House yesterday. Thai financial markets are closed tomorrow to mark the 86th birthday of King Bhumibol Adulyadej, the world's longest-reigning living monarch.
"The government realizes that continued resistance by the police could end with dead anti-Thaksin protesters, martyrizing them and playing into the hands of Suthep," said Paul Chambers, director of research at the Institute of Southeast Asian Affairs at Chiang Mai University.
Demonstrators were allowed to "hold a symbolic rally" at Government House and the Metropolitan Police Bureau yesterday, spokesman Piya Uthayo said. They were also allowed to enter the national police headquarters on Rama 1 road today, according to footage broadcast on the Bluesky Television network, which is affiliated with the opposition Democrat party.
'Partial Victory'
Thailand's SET Index of stocks was little changed at the 12:30 p.m. break in Bangkok, after gaining for a third day yesterday. The benchmark gauge for the nation's $377 billion stock market retreated 5 percent last month as foreign investors sold a net $1.5 billion of shares, the most among 10 Asian markets tracked by Bloomberg. The baht traded at 32.19 per dollar after reaching 32.285 on Dec. 2, the weakest level since Sept. 9, according to data compiled by Bloomberg.
"This is a partial victory," Suthep told supporters after demonstrators entered Government House, adding that the protests won't end even if Yingluck quits or dissolves parliament. "It's not absolute yet because the tyrant government is still there. So, we still can't go home."
Suthep has refused Yingluck's offers to negotiate, saying he wants to replace Thailand's democratic system with a council consisting of "good people" from a cross-section of society.
'Urgent Reforms'
The council will "draft new laws and has a duty to prevent corruption and conduct free and fair elections," Suthep said yesterday. "It will also reform the provincial governors by holding direct elections. The police must also serve the people. When these urgent reforms are completed, we will hold a general election."
Yingluck has said the demand was "unimaginable" under the country's existing constitution.
The rallies began more than a month ago to oppose a proposed amnesty law that Yingluck's critics said would benefit her brother. Thaksin has lived in self-imposed exile since fleeing abuse of power charges in 2008, and has helped guide policy from abroad since Yingluck led the Pheu Thai party to victory in a 2011 election.
After the amnesty legislation was rejected by the Senate last month, the protesters switched their goal to dismantling the political network of Thaksin, who was accused of corruption and showing disrespect for the monarchy when in power. Parties linked to the former premier have won the past five elections on support from voters in northern and northeastern provinces.
Deadly Crackdown
Suthep was a former deputy premier with the opposition Democrat party, which hasn't won a national poll in more than 20 years. He faces murder charges for his role in helping to oversee a deadly crackdown on supporters of Thaksin in 2010 when the Democrats were in power. Courts issued two warrants for his arrest this week, including one on a charge of insurrection, which carries a penalty of life imprisonment or death.
The protesters have called on the military to choose a side. Navy chief Narong Pipatanasai said the military will act as a mediator in the dispute, and he ruled out a coup.
"We haven't reached a dead-end," Narong told reporters today. "There should be a way out for the country."
Thailand has seen nine coups and more than 20 prime ministers since 1946, when the king took the throne as an 18-year-old. The monarch, whose portrait is hung in most homes and shops, was admitted to the hospital in September 2009, according to the Royal Household Bureau.
Summer Palace
The king and Queen Sirikit moved in August to the Klai Kangwon Palace in the Hua Hin district of Prachuap Khiri Khan province. He will grant an audience to the prime minister, ministers, parliament speakers, army commanders and senior civil servants at the summer palace at 10:30 a.m. tomorrow, and will give a short speech, the Royal Household Bureau said.
The king's son, Crown Prince Maha Vajiralongkorn, last month urged Thais to heal divisions through dialogue, according to a report in the Thai-language Khaosod newspaper.
While tensions will ease on the king's birthday, protests may resume soon after, said Jade Donavanik, dean of the Graduate School of Law at Bangkok's Siam University.
"This is like pressing the pause button on a movie," Jade said. "You never know from here on whether it will be a happy ending or whether everyone will die at the end."
Before it's here, it's on the Bloomberg Terminal.
LEARN MORE