RVs, Fueled by Cheap Loans, Pick Up Steam
Detroit may be booming, but the biggest vehicle news of the week may be coming out of Louisville, Ky. That's where the RV industry is circling those giant metal wagons for its annual show.
This morning, as companies such as Thor Industries and Winnebago prepare to show off their newest homes on wheels, the Recreational Vehicle Industry Association unveiled a bullish forecast. Thanks largely to cheap financing and an improving economy, RV sales are expected to top 316,300 this year, an 11 percent increase over 2012. The trade group expects a 6 percent gain next year.
Those numbers aren't overly impressive when compared with the U.S. auto industry, which is on pace to move close to 16 million machines this year. After all, it took Ford only a few months to sell 300,000 of its F-Series pickups this year.
But these are often much bigger (and much more expensive) machines. Thor, for example, sells a 39-foot model—the "Outlaw"—that costs well over $150,000, sleeps eight, and has a garage in the back.
What's more, the recent boom has been driven primarily by high-end models. This year, sales of motorized RVs (as opposed to towable models) are on pace to increase by 35 percent. The RV trade group expects a further 10 percent gain in the category next year.
The demand has led to a wave of hiring and surging stock prices. But the motor home business will have to build up a little more momentum before it hits record highs.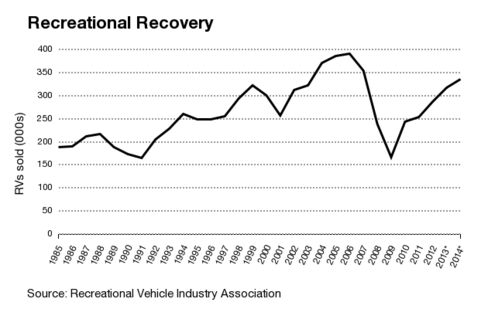 Before it's here, it's on the Bloomberg Terminal.
LEARN MORE