H.K. Beefs Up Checks at Borders After First H7N9 Case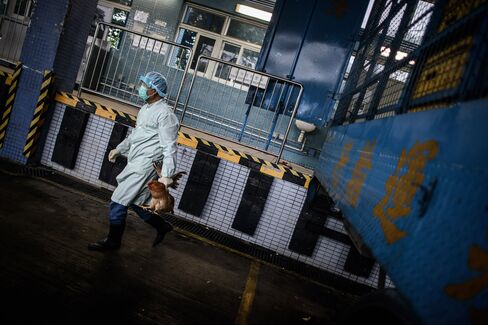 Hong Kong activated part of a pandemic preparedness plan, stepping up surveillance of travelers with fever, after confirming its first case of a new strain of bird flu that killed 45 people in mainland China.
Border control points have implemented disease-prevention and control measures, including enhanced body-temperature checks, the city's Centre for Health Protection and Department of Health said today in a statement. Seventeen people who had contact with a domestic helper thought to have caught the H7N9 flu virus in the neighboring city of Shenzhen are in quarantine.
While the novel avian influenza strain is often lethal to humans, it doesn't transmit easily from person to person. The initial cases are prompting international concern that the germ may trigger a global contagion if it's allowed to spread and mutate into a more contagious form. Two of last century's three flu pandemics are thought to have started in China.
"The CHP's epidemiological investigation, enhanced disease surveillance, port health measures and health education have been in full swing since the government escalated the response level under the Preparedness Plan for Influenza Pandemic from 'Alert' to 'Serious,'" the health department said in the statement.
Human cases of H7N9 in China date to February and surged in April, before agriculture authorities temporarily closed live poultry markets and quarantined farms to limit human exposure. The Geneva-based World Health Organization counted 139 laboratory-confirmed cases as of Nov. 6.
Critical Condition
Hong Kong's patient, a 36-year-old Indonesian woman, is in critical condition, Ko Wing-man, the city's health secretary, told reporters yesterday. The patient had traveled to Shenzhen, where she bought and slaughtered a chicken. A 33-year-old woman who accompanied her doesn't have symptoms and tested negative for the H7N9 virus, the Centre for Health Protection said.
Shenzhen is a 61-minute train ride from Hong Kong's downtown Central district and a popular day-trip destination for shopping and dining. Last year, Hong Kong residents departed from the Lo Wu check point 35.4 million times, according to the census and statistics department. The city had 7.18 million people in mid-2013, according to a government estimate.
Ten people who were in contact with the patient in the home, including four with non-specific symptoms, have been quarantined in Princess Margaret Hospital. They tested negative for the flu. Six patients hospitalized near the patient in Tuen Mun Hospital have been quarantined in the hospital pending laboratory testing.
Treatment Offered
More than 220 contacts of the patient have been put under medical surveillance and offered Roche Holding AG's anti-flu medicine, Tamiflu, the health agency said. Those people have remained well so far and have been offered Tamiflu prophylaxis, according to the government statement. The Lady MacLehose Holiday Village in Sai Kung has been converted into a quarantine center and asymptomatic close contacts will be transferred there.
Travelers are advised not to visit wet markets with live poultry in the affected areas and to avoid direct contact with poultry, birds and their droppings. If contact has been made, they should thoroughly wash their hands with soap and water, the agency said.
"Travelers, especially those returning from avian influenza A(H7N9)-affected areas, with fever or respiratory symptoms are reminded to immediately wear facial masks, seek medical attention, and reveal their travel history to doctors," the agency said. "Health-care professionals should also pay special attention to patients who might have had contact with birds, poultry or their droppings in affected areas."
The Centre for Health Protection's hotline (2125 1111) has been set up for public questions and will operate from 9 a.m. to 6 p.m. As of 4 p.m. today, 37 inquiries had been received.
Before it's here, it's on the Bloomberg Terminal.
LEARN MORE