Budget Negotiators Seen Near to Deal to Ease U.S. Cuts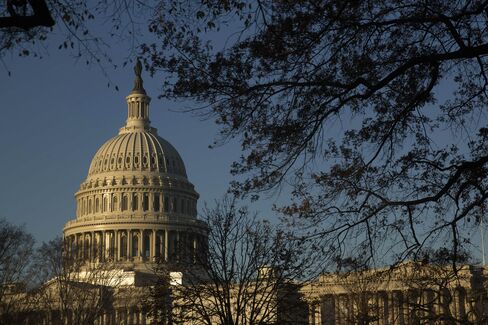 Dec. 3 (Bloomberg) -- U.S. budget negotiators are near a deal to ease automatic spending cuts that congressional aides say could boost user fees rather than end corporate tax breaks.
Negotiators are "down to the last few items," said Representative Tom Cole of Oklahoma, a member of a 29-member committee aiming to reach an agreement by Dec. 13 that sets federal spending levels for this year and next. Both parties are "careful to say they don't have a deal," Cole said.
"It's not the grand bargain but it's a workable deal," Cole said today after a meeting of Republicans who control the House. "In this environment, that's something to be proud of."
Cole said the deal would probably cap spending at about $1 trillion, instead of $967 billion, through mandatory spending cuts known as sequestration and endorsed by House Republicans. Democrats set a $1.058 trillion cap in their plan.
Lawmakers from both parties doubt the possible budget deal would have the votes to pass Congress. Democrats have insisted that Republicans agree to end at least some corporate tax breaks to reach a deal while Republicans probably will balk at a spending levels than exceeds a 2011 budget compromise.
Some of the ideas could help form the basis of a stopgap spending measure ahead of the Jan. 15 expiration of government funding.
Plans 'Hurts'
Representative Steny Hoyer, the No. 2 House Democrat, said he opposes a spending plan favored by Republicans that allows all of the scheduled automatic cuts to take effect in January.
"I believe that hurts our national security, it hurts our economy and it undermines our responsibility of running government at a level that's productive," Hoyer told reporters today in Washington.
The plan being negotiated by budget committee chiefs Representative Paul Ryan of Wisconsin and Senator Patty Murray of Washington would avoid major changes to entitlement programs such as Social Security that Democrats are seeking to protect and tax increases that Republicans are ruling out.
Murray is returning to Washington this week while the Senate is on a break to continue negotiating with Ryan.
The emerging plan is drawing criticism from lawmakers in both parties. Republicans including Representative Scott Garrett of New Jersey, a budget committee member, said he thinks it goes too far in relaxing spending cuts that are part of a 2011 budget agreement. Garrett said there is only a "slim" chance the prospective accord would pass the House.
User Fees
Democrats including New York Representative Charles Rangel say relying on user fees instead of ending corporate breaks to replace the cuts will hurt average Americans.
"User fees affect constituents, and every time you talk about adding something it means the balloon is getting bigger and hurting somebody on the other side," Rangel said.
House Speaker John Boehner of Ohio faulted the Senate for delaying a final agreement on the budget.
"Chairman Ryan has done a very good job of outlining very serious offers, but we can't get Senate Democrats to say yes," Boehner told reporters today. "It is time for the other chamber to get serious by getting this work finished."
Congress on Oct. 16 passed legislation funding the government through Jan. 15 as part of the agreement to end a partial shutdown, the first in 17 years. The budget negotiators have a self-imposed deadline next week to complete an agreement.
9% Approval
Republicans are eager to avoid a spending standoff after the party's approval ratings plunged to a record-low 9 percent after the 16-day shutdown, according to Gallup Organization polling.
Cole said Boehner as early as next week may advance a temporary spending bill if budget talks fail to produce an agreement in the next few days.
"There's a pretty strong sentiment in our conference that we don't want there to be a lot of discussion over the holidays about a potential government shutdown," Cole said. "There's a lot of support for that," he said of a temporary bill.
Ryan also said he'd support a temporary measure if budget negotiators don't reach an agreement.
Boehner told reporters in November that the House would be prepared to vote on a short-term deal to keep the government running at current funding levels if needed. Absent a broader accord, that wouldn't avert scheduled automatic budget cuts.
'No Appetite'
The timing of that vote hasn't been set. The strategy marks a shift for House Republicans, who in October instigated a government shutdown by refusing to fund implementation of President Barack Obama's health care law.
"There is no appetite to do that again," Nebraska Republican Representative Lee Terry said in an interview. "There may be a handful of people but even those people have been very quiet."
Fees paid by airline passengers, or boosting the co-called Sept. 11 security fee on airline tickets, is among the options Murray and Ryan are discussing that budget experts estimate could save up to $11 billion to offset some automatic cuts.
Other options under consideration include $20 billion in changes to federal retirement programs that would increase worker contributions, and auctioning government-owned airwaves. Aides said the details are still being worked out.
Ryan has previously shared with Republican lawmakers ideas including increased premiums for pension plans backed by the Pension Benefit Guaranty Corp. and a cut in Medicaid payments to hospitals. Lawmakers including Senator Jeff Sessions of Alabama, the top Republican on the Budget Committee, also back a proposal to push some spending cuts to future years.
Hoyer of Maryland downplayed the likelihood of an accord.
"There are notional things that are being discussed, but I don't know of anything specific," he said.
Hoyer said relying only on user fees without ending some corporate tax breaks to generate revenue is "a gimmick."
To contact the reporter on this story: Heidi Przybyla in Washington at hprzybyla@bloomberg.net
To contact the editor responsible for this story: Jodi Schneider at jschneider50@bloomberg.net