Brazil Economy Shrinks More Than Forecast on Investment Fall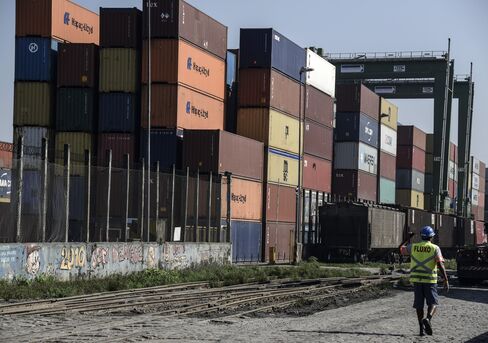 Brazil's economy shrank in the third quarter more than analysts forecast as above-target inflation, deteriorating fiscal accounts and rising interest rates sapped confidence and crimped investment. Swap rates fell.
Brazil's gross domestic product fell 0.5 percent in the July to September period from the previous three months, the biggest drop since the first quarter of 2009, the national statistics agency said today in Rio de Janeiro. The drop was larger than forecast from 38 economists surveyed by Bloomberg, whose median estimate was for a 0.3 percent drop, and follows a revised 1.8 percent gain in the second quarter. On an annualized basis, the third quarter decline was 1.9 percent.
Earlier this year, President Dilma Rousseff's administration attempted to revive growth by extending tax cuts to stoke demand for durable goods, boosted subsidized credit to businesses and auctioned concessions for her $240 billion infrastructure program to draw private capital. Her stimulus fueled inflation and widened the budget deficit. Today's data ease pressure on the central bank to continue its series of half-point increases to the benchmark interest rate, said Enestor dos Santos, principal economist at Banco Bilbao Vizcaya Argentaria.
"The central bank cares about growth, and these very negative figures should affect their decisions," Santos said by telephone from Madrid. "There's going to be a very dovish impact."
Swap rates on the contract maturing in January 2015, the most traded in Sao Paulo today, fell 10 basis points, or 0.10 percentage point, to 10.65 percent at 1:20 p.m. local time. The real weakened 0.1 percent to 2.3556 per U.S. dollar.
Artificial Stimulus
Investment in the third quarter dropped by 2.2 percent. The decline shows the government artificially stimulated the economy in the second quarter and the impact was not lasting, according to Luciano Rostagno, chief strategist at Banco Mizuho do Brasil SA.
"The government expected that by giving stimulus to specific sectors, positive sentiment would spread out," Rostagno said by phone from Sao Paulo. "You can clearly see that didn't happen."
Even as growth contracted in the third quarter, the central bank continued raising rates in order to damp above-target inflation. The bank last week raised the benchmark Selic for the sixth straight time, to 10 percent, marking 275 basis points of increases since April.
"The increase of the Selic certainly had some impact on growth this year, because real interest rates are higher for investors and consumers," Finance Minister Guido Mantega said in a conference call. "However, our interest rates are still at reasonable levels relative to Brazil's norm."
Investment Rate
Growth in the world's second-biggest emerging market will accelerate this year to 2.5 percent from a revised 1 percent last year, according to analysts surveyed by Bloomberg. That would be less than one-third China's rate and about half of India's. The analysts forecast a 2.4 percent expansion in 2014.
Rousseff's government has repeatedly pledged to boost Brazil's investment rate, which was 19.1 percent of GDP in the third quarter, compared with 18.2 percent for all of 2012. Last year, China's investment rate was 48 percent of GDP, India's 36 percent, and Russia's 26 percent, according to the World Bank.
Protests that rocked the nation in the middle of the year deepened concern about the economy and how the government would respond with a presidential election coming next year, according to David Beker, Brazil economist for Bank of America Merrill Lynch. Industrial and consumer confidence levels fell in July to more than four-year lows before rebounding partially in subsequent months, according to the National Industry Confederation and Getulio Vargas Foundation.
'Visibility Declined'
"We don't know how much adjustment we'll see in monetary policy or in fiscal policy, and that uncertainty makes it more difficult for companies to plan ahead," Beker said by phone from Sao Paulo before release of today's data. "You only make investments when you have long-term visibility, and that visibility declined over the last years."
Rousseff also hasn't pushed for more sweeping changes to the tax and labor laws that would reduce production costs for the economy as a whole, said Jankiel Santos, chief economist at Banco Espirito Santo de Investimento.
'Fly Away'
"If Brazil had done what it was supposed to have, people would say there's tremendous potential here," Santos said by phone from Sao Paulo before release of today's data. "Since we haven't done that, the market's looking at Brazil and saying it's time to fly away."
In the third quarter, 54 percent of Brazilian businesses said the largest hindrance to growth is economic uncertainty, according to a survey of 300 companies by Grant Thornton International. That's up from 36 percent in the second quarter.
Consumer inflation in the year through mid-November accelerated to 5.78 percent after slowing for four straight months. Policy makers target inflation of 4.5 percent plus or minus two percentage points, and price increases have remained above the midpoint throughout Rousseff's nearly three years in office.
Third-quarter growth of family and government consumption, by 1 percent and 1.2 percent respectively, was not enough to keep the economy from contracting. Consumption has been holding up due to improvements in disposable income, according to Carlos Kawall, chief economist at Banco J. Safra.
Consumption Dependent
"The economy will be more dependent on consumption in the short term," Kawall said by phone from Sao Paulo. "Investments next year will be stagnant."
Economists in the latest weekly central bank survey forecast inflation of 5.92 percent in 2014, and a 10.5 percent Selic at the end of next year. Higher rates will hamper consumer demand, according to Andre Perfeito, chief economist at Gradual Investimentos.
The central bank's campaign against inflation has been offset by deteriorating government accounts. The nominal budget deficit in October was wider than economists predicted and set a record for the month, adding to evidence that the administration will miss its fiscal policy target this year. The primary surplus, which doesn't include interest payments, was 1.4 percent of gross domestic product in the year through October, compared with the target of about 2.3 percent.
"Tax revenue is improving, particularly starting in October, and should continue improving in coming months," Mantega said. "The problem was more on the revenue side than that of spending."
Before it's here, it's on the Bloomberg Terminal.
LEARN MORE