A Club For MIT Sloan Students Seeking a Little Joie de Vivre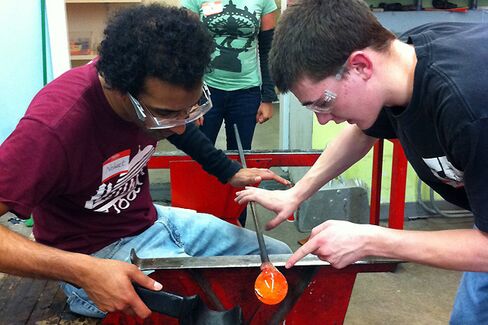 In January 2011, 20 students at MIT Sloan School of Management traveled to Austria to learn about chocolate-making, the waltz, and proper etiquette for greeting a dance partner in the grand tradition of the Viennese ball. (The gentleman bows his head to the lady's outstretched hand, but stops short of planting his lips.) Those aren't skills most MBAs have on the top of their to-learn lists. Then again, Sloan's Joie de Vivre club, which organized the trip, isn't your typical student organization.
Max Jahn, a former Merrill Lynch banker, started Joie de Vivre in 2010 after attending a classical music concert with fellow Sloan students during his second semester at the school. The outing was a welcome break from the business school grind and a chance to get to get to know his classmates in a different context. "I was listening to this beautiful music and I thought, I have classmates that are gifted in so many fields," he says. "But when I meet them in a data models class or at a recruiting event, I don't ever hear about their amazing talents."
The idea for the club, often called JDV to spare Sloan's quants from attempting French accents, was to give students an opportunity to share extracurricular passions and interests. The group's first meeting included a viola performance, a chocolate tasting, and a lecture on rare orchids given by a Sloan student who had cataloged the flowers for the Mexican government prior to entering business school. Other activities included a talent show and the trip to Jahn's hometown of Vienna.
Business school clubs that focus on extracurricular interests are hardly unusual. Sloan has Rolling Sloans for part-time musicians and the Vintners Club for wine lovers, among others. Plenty of other business schools have clubs for athletes, foodies, and book lovers.
Unlike many of them, JDV strives to remind students that they're "living in a world that's bigger than business school," says Divya Agarwal, current co-president of the club. Recently, that has meant emphasizing events, including a glassblowing class and museum outings, that get students off MIT's rarefied campus and into other parts of the Boston area.
What's next? Jahn, who says that founding the club helped him get his current job as chief financial officer at New York City art museum Neue Galerie, is leading a return trip to Vienna next year for current students and alumni. Agarwal, who is enrolled in a joint program with Harvard's Kennedy School of Government, wants to invite Harvard students to join future expeditions. "It's actually a big mission," she says. "We want to get students to explore."
Before it's here, it's on the Bloomberg Terminal.
LEARN MORE