Petrobras Falls as Brazil Fails to Phase Out Fuel Subsidy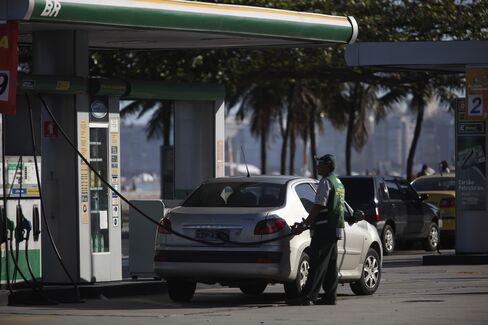 Petroleo Brasileiro SA fell the most in five years after the government failed to meet a request by the state-run company to disclose a clear policy for phasing out fuel subsidies that have cut earnings and increased debt.
Shares in Petrobras, as the Rio de Janeiro-based crude producer is known, lost 9.2 percent, the steepest one-day decline since Nov. 12, 2008, and the most among members of the Dow Jones Oil & Gas Titans 30 Index.
While President Dilma Rousseff allowed Petrobras to raise prices for the first time since March, the Nov. 29 statement fell short of disclosing details of the methodology for future adjustments. Selling imported gasoline below cost drove down profit the most among major producers last quarter. The fuel losses, a controversial capital increase and record-high debt have made Petrobras, once the sixth most valuable company, the worst-performing major oil stock in the past five years.
"The price increase was positive, but it only gives short-term relief," Felipe Rocha, an analyst at brokerage Omar Camargo, said today by telephone from Curitiba, Brazil. "Investors were anxiously expecting more transparency on if, how and when the government will allow new price adjustments to happen in the medium and long term. It's frustrating."
Price Convergence
Fuel increases of 4 percent for gasoline and 8 percent for diesel that took effect over the weekend are part of a new policy designed to make local prices converge with international benchmarks, Petrobras said in the filing.
The price increase provides a respite for a company that has been amassing debt to fund a $237 billion investment plan, the industry's largest, as well as pay for Rousseff's fuel subsidies to fight inflation. Moody's Investors Service downgraded Petrobras one level to Baa1 on Oct. 3, citing concerns over high leverage and negative cash flow.
Petrobras said Oct. 25 it had asked the board, led by Finance Minister Guido Mantega, to implement a policy to adjust fuel prices on a regular basis.
In last week's statement, Petrobras said "the parameters of the pricing method will be kept strictly in-house for commercial reasons."
President Rousseff's press office didn't respond to an e-mail sent outside of business hours seeking comment on the pricing formula. Petrobras referred questions to the filing.
Worst Performer
Petrobras preferred shares fell 9.2 percent to 17.36 reais at the close of trading in Sao Paulo. An 11 percent decline this year compares with an 11 percent gain for the Dow Jones Oil & Gas Titans 30 Index. Petrobras has gained 16 percent in the past five years in dollar terms, the smallest return among the 15 most valuable oil producers, according to data compiled by Bloomberg.
The stock has lost 29 percent since Feb. 13, 2012, when Maria das Gracas Foster Silva took over as chief executive officer.
"The 'internal use only' nature of the apparent pricing methodology will pressure the stock as one does not know how the methodology works, when it will be used and most importantly, whether the government will or not allow the price adjustment to occur, when the methodology calls for one," Banco Santander SA analyst Christian Audi said in a e-mailed note to clients dated today.
Credit derivative traders are treating Petrobras as if it were rated junk, with the cost to protect bondholders against default for five years almost doubling this year to 275 basis points.
Refining Losses
The fuel subsidies caused a loss of 8.59 billion reais ($3.68 billion) in Petrobras's refining division in the third quarter because the company was selling imported gasoline at a 20 percent discount to international prices. Petrobras' net income fell to 3.39 billion reais, the lowest third-quarter level in 11 years, from 5.66 billion reais a year earlier.
A 39 percent drop in quarterly earnings per share was the steepest among the 15 most valuable oil producers globally. The Brazilian company will report a 20 percent EPS decrease this quarter, also the biggest among global majors, according to analysts estimates tracked by Bloomberg.
While Petrobras exports crude from Brazil, it needs to import gasoline and diesel because its refineries can't meet demand and aren't prepared to process the oil it ships abroad. The government controls Petrobras with a majority of voting shares.
Rating Cut
Net debt reached 3.16 times earnings before interest, taxes, depreciation and amortization as of Sept. 30, the highest since at least 2002, the data show.
Minority investors, who won a seat on the board this year after more than a year of pushing, have been advocating that fuel subsidies are starving Petrobras from resources needed to develop offshore reserves that are the world's biggest finds this century.
Three weeks after Moody's downgraded Petrobras, the company said in an earnings statement it was seeking board approval for a formula that would trigger fuel price changes on pre-set dates, without government review. Currently any fuel price changes must be approved by the government, which has been resisting calls to reduce subsidies because inflation has been running above the central bank's target for more than three years. Consumer prices rose 5.8 percent in the 12 months through October.
Convergence Calls
Foster has repeatedly said the oil producer needs to seek convergence between global and domestic fuel prices. Between June 2012 and March, the government authorized her to raise gasoline by 15 percent and diesel by 22 percent. Finance Minister Mantega said in a Nov. 1 interview that any new pricing policy would have to take inflation into account.
Countering the effect of price increases is the Brazilian real's 12 percent depreciation against the U.S. dollar this year, the biggest drop among major currencies tracked by Bloomberg after the Japanese yen and South Afica's rand.
"It's clear that the Rousseff administration was reluctant to approve any automatic fuel price formula that would take prices out of regulators' hands and put them on 'autopilot'," Pavel Molchanov, an analyst with Raymond James Financial Inc., said in an e-mailed response to questions. "The government decided to split the difference, giving Petrobras some partial relief but not the long-term clarity on pricing that investors want."
Before it's here, it's on the Bloomberg Terminal.
LEARN MORE