Hunger Games and Frozen Create Record Holiday Box Office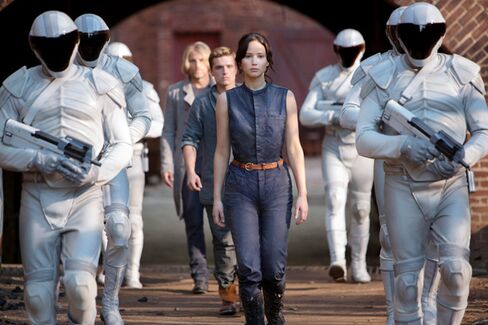 It didn't take huge discounts to get record crowds to movie theaters over Thanksgiving, just two hot products. The second installment of Lionsgate's Hunger Games franchise and Frozen, an animated musical from Walt Disney, both shattered box-office revenue records for the perennially busy movie weekend.
With an estimated $110 million in North American sales from Wednesday through Sunday, the Hunger Games sequel posted the biggest haul on record for the period, topping the $82 million collected in 2001 by Harry Potter and the Sorcerer's Stone. Meanwhile Frozen earned $93 million in ticket sales over the recent holiday period, sliding into second place on the "all-time" Thanksgiving movie roster (unadjusted for inflation).
Here's a look at the fattest Thanksgiving returns on record: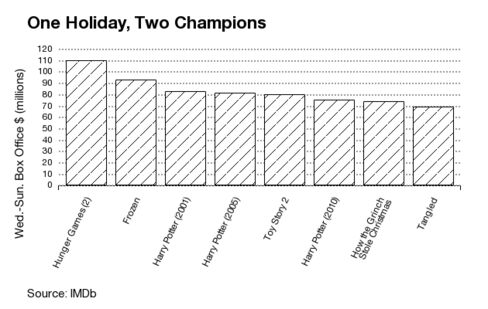 Thor: The Dark World, now a month old, finished third over the holiday weekend with $16 million in North American ticket sales.
U.S. consumers usually buy plenty of junk over Thanksgiving—movie tickets included. But the two standout films last week were buttressed by solid reviews. RottenTomatoes.com, which aggregates professional critics, has an 89 percent approval rating on The Hunger Games: Catching Fire with Frozen coming in at 84 percent.
Last year, moviegoers were presented with Red Dawn, and The Twilight Saga: Breaking Dawn Part 2, which combined only came up with a fairly rotten 60 percent rating. Comparatively, they brought in $58 million.
It's no surprise that Lionsgate has the third and fourth installments of its blockbuster Hunger Games franchise on the movie menu for the next two Thanksgivings. With that in store, the other studios will likely be fighting for scraps.
Before it's here, it's on the Bloomberg Terminal.
LEARN MORE