Glaxo CEO on U.K. China Trade Mission Amid Bribery Probe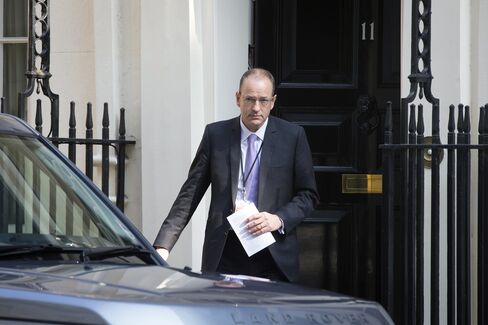 GlaxoSmithKline Plc Chief Executive Officer Andrew Witty joined U.K. Prime Minister David Cameron on a trade mission to China today as his company faces a corruption investigation in the country.
The prime minister is traveling with a 100-strong business delegation on the three-day journey that will take in three cities. Other leaders include John Cridland, the director general of the U.K.'s main business lobby group, the Confederation of British Industry, and Tom Williams, Airbus SAS's executive vice president for programs.
"It's an opportunity for us to reiterate our commitment to China," said Glaxo spokesman Simon Steel in London.
China began an anti-corruption probe focused on Glaxo in July. Allegations by China's government that Glaxo bribed hospitals, doctors and officials prompted Witty to dispatch his head of emerging markets, Abbas Hussain, there to oversee the company's response.
The probe was largely responsible for Glaxo's sales of pharmaceuticals and vaccines in China plunging 61 percent in the three months through September. The company hasn't given an outlook on how long the downturn may last.
While China accounts for slightly less than 3.5 percent of Glaxo's global pharmaceuticals revenue and is less profitable than its Western businesses, the world's most populous nation presents significant growth opportunities.
British Interests
"The prime minister did discuss British business interests in China and the need for them to think it's a stable environment to operate," Cameron's office said today when asked whether the premier had raised Glaxo's case with Chinese officials.
Though it's too early to make judgments on possible fines from the Chinese government, the company has sufficient provisions to cover legal costs given the information gathered so far, Witty said in October.
China is using anti-corruption probes to put pressure on other multinationals and foreign companies to lower prices on everything from infant formula to television screens. President Xi Jinping has made affordable health care a key part of the Communist Party's agenda. Glaxo has already pledged to pass on savings from operational changes made in China in the form of cheaper medicines.
U.S. Settlement
Glaxo agreed last year to pay a record $3 billion fine in the U.S. to settle allegations that the company illegally marketed medicines. That settlement came with a "Corporate Integrity Agreement" with the U.S. government that requires Glaxo to report any investigation or legal proceedings.
"Ongoing risks include the global regulatory fallout, foremost in the U.S., from any repercussions in China," Kepler Cheuvreux's environmental, social and governance research team said in a report on corruption in the pharmaceutical industry last month.
Anti-corruption investigations may also spill over to other countries such as India, Brazil and Russia, especially during election years, according to Kepler analyst Sudip Hazra.
"They could potentially use these precedents in the U.S. and China to embolden them politically," Hazra said.