Russia Offers Ukraine Cheaper Gas to Join Moscow-Led Group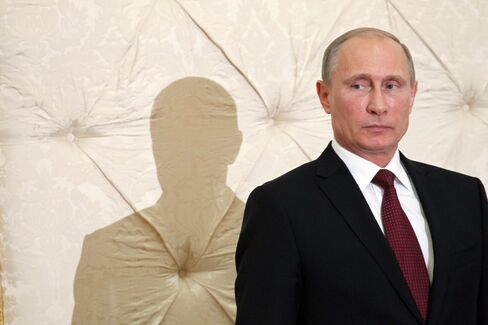 Russia will offer cheaper natural gas to Ukraine if the government in Kiev opts to join a Moscow-led economic bloc after halting free-trade talks with the European Union, according to First Deputy Prime Minister Igor Shuvalov.
Ukraine's economic difficulties will be best resolved if it chooses integration with Russia, Shuvalov said in an interview last month in Bloomberg News' Moscow office.
"No one other than Russia can provide Ukraine with the necessary funds so quickly and in such a quantity," Shuvalov said. "A gas agreement could help relieve Ukraine of a huge problem. We can also give them a loan, but we will not help them without commitments on their part."
Ukraine failed to sign an EU free-trade accord last week, suspending talks in order to repair economic ties with Russia. The country is a key route for natural gas shipments to the EU, while both Russia and the EU buy about 25 percent of Ukraine's exports. Russian President Vladimir Putin's ambitions for an economic bloc of former Soviet nations to rival the EU have put him in conflict with European leaders including German Chancellor Angela Merkel.
While Ukrainian President Viktor Yanukovych reiterated that the country's goal is European integration, his about-face on the EU agreement has sparked the biggest street protests since the 2004 Orange Revolution.
Clashes, Protests
Ukrainian protesters are blocking government buildings after yesterday urging workers nationwide to walk off the job. A crowd estimated by the opposition at half a million converged on central Kiev last night, while clashes with police left at least 265 people hurt.
Russia, which supplies 60 percent of Ukraine's natural gas, threatened trade measures against its neighbor if the EU deal went ahead and offered membership in its customs union as an alternative.
Ukraine would risk the Kremlin-led union with Belarus and Kazakhstan imposing tariffs on its goods if it signs the EU free-trade accord, Russian Prime Minister Dmitry Medvedev told his Ukrainian counterpart Mykola Azarov at a regional meeting in St. Petersburg on Nov. 20. A day later Ukraine announced it was halting preparations for the EU agreement, due to have been signed at a summit in Lithuania on Nov. 28-29.
Third Recession
Ukraine entered its third recession since 2008 in the second quarter of this year as demand for its steel exports shriveled, while its international currency reserves have plummeted. Joining Russia's customs union would shrink its current-account gap by cutting energy costs.
Ukraine, the second-most populous former Soviet nation after Russia, isn't ready to join the trade pact immediately, Shuvalov said in comments cleared Nov. 30 for publication.
At the same time, Ukraine knows it will get "a different price for gas" by making a commitment to become a member of the customs union like Armenia, which decided in September to join the group instead of striking an EU pact, he said.
"We're negotiating in an open and transparent manner with Armenia about our ties and everyone understands that we are giving Armenia a specific price for gas because they're signing the whole package of agreements on the customs union," Shuvalov said.
Armenia will bolster its economic prospects and improve its investment climate by joining the customs union, Putin said today while visiting the South Caucasus nation.
Bonds, CDS
The yield on government bonds due 2023 rose 61 basis points, or 0.61 percentage point, to 10.58 percent by 4:28 p.m. in Kiev. The cost to insure Ukraine's debt against non-payment for five years using credit-default swaps jumped 138 basis points in the past week to almost 1,065 basis points, leaving the Black Sea nation the third-riskiest behind Argentina and Venezuela, according to data compiled by Bloomberg.
Ukraine shouldn't have to chose between Russia and the EU as countries "must be able to decide freely" about their international relations, Merkel told reporters in Berlin on Nov. 27. "The Cold War is over."
Polish President Bronislaw Komorowski condemned what he termed a policy of "pressure and blackmail" by Russia in an interview last week with the newspaper Gazeta Wyborcza.
Russia hasn't offered to review its natural gas supply contract with Ukraine, Putin said last week during a visit to Italy.
'Political Tensions'
Ukraine will hold talks with Russia in the next two weeks seeking to set gas prices for 2014 so the government can prepare a budget, Azarov said in comments broadcast late yesterday by the non-state television channel Inter.
Countries in the customs union would "immediately stop free trade with Ukraine" if the country signed the EU deal, costing the country 400,000 jobs, Azarov said in parliament Nov. 27. The two countries haven't agreed on new loans and will meet in December to discuss the way ahead, he said.
It's not in Ukraine's interest to sit on the fence without a commitment to EU association or the Russian-led group, according to Andrey Slepnev, trade minister in the customs union's Eurasian Economic Commission.
"If Ukraine goes neither here nor there, political tensions will increase in the country," Slepnev, a former Russian deputy economy minister, said in an interview last month. Joining the customs union, on the other hand, "will give an impetus to the Ukrainian economy."
Before it's here, it's on the Bloomberg Terminal.
LEARN MORE