Paul Walker, Star of 'Fast & Furious' Movies, Dies in Car Crash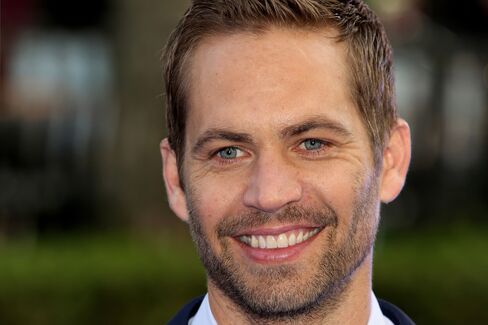 Paul Walker, the Hollywood actor who appeared in the "Fast & Furious" series of action movies, has died in a car crash. He was 40.
Walker was a passenger in a car driven by a friend, who was also killed in the accident yesterday, according to a statement on his Facebook page. It said he had had been attending an event for his charity Reach Out Worldwide, which provides aid to victims of natural disasters. The organization held an "automotive gathering and toy drive" in Valencia, California, yesterday.
"It is with a truly heavy heart that we must confirm that Paul Walker passed away today in a tragic car accident while attending a charity event for his organization Reach Out Worldwide," the statement on Facebook said. "We appreciate your patience as we too are stunned and saddened beyond belief by this news."
Deputies found a Porsche Carrera GT in flames when they responded to a report of a collision yesterday afternoon in the community of Valencia, the Associated Press cited the Los Angeles County Sheriff's Department as saying. Two people who were found in the car were pronounced dead at the scene, it said.
"Brother I will miss you very much," Vin Diesel, who starred with Walker in the "Fast & Furious" series, said on his Twitter page. "I am absolutely speechless. Heaven has gained a new Angel. RIP."
Child Actor
Paul William Walker IV was born on Sept. 12, 1973, in Glendale, California. He was a child actor in television commercials and made appearances in TV shows including "Charles in Charge," "Who's the Boss" and "Diff'rent Strokes," according to his IMDB page. He also had a role in the soap opera "The Young and the Restless" before becoming a film actor.
He had roles in "Pleasantville" (1998), "Varsity Blues" (1999) and "She's All That" (1999) before appearing in the first of the "Fast & Furious" films in 2001.
Walker was in the process of making "Fast & Furious 7," which is due to be released in July 2014, according to the Universal Pictures website. He had recently completed work on "Brick Mansions," which is scheduled for release next year, according to the IMDB.
"All of us at Universal are heartbroken," AP cited Universal Pictures as saying in a statement. "Paul was truly one of the most beloved and respected members of our studio family for 14 years, and this loss is devastating to us, to everyone involved with the 'Fast & Furious' films, and to countless fans."