Israel's Bedouin Resolve to Defy Government's Resettlement Plan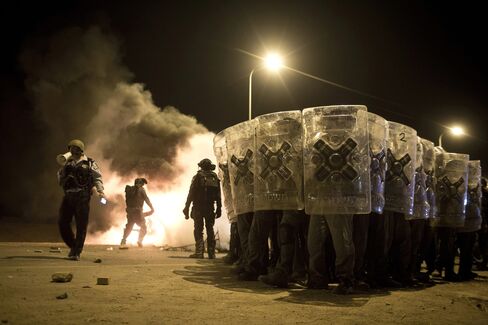 Leaders of Israel's 200,000 Bedouin Arab citizens called for civil disobedience against government efforts to resettle the traditionally nomadic population after weekend demonstrations erupted in violence.
The arrest of more than 40 protesters by police who used stun grenades and water cannons to quell the demonstrations will galvanize resistance to a proposed resettlement law, Taleb Abu Arar, a Bedouin member of parliament, said today. Prime Minister Benjamin Netanyahu vowed to carry on with the so-called Prawer legislation and prosecute rioters.
"We've warned the government that the coercion involved in this law is not acceptable and I'm calling on all Bedouins not to respect it," Abu Arar said in an interview with Israel Army Radio.
The Prawer plan would move tens of thousands of Bedouin from impoverished, unauthorized encampments and villages on state-owned land across the southern Negev desert into towns that provide sewage, electricity and water services many currently lack. Abu Arar says the Bedouin own much of the land that Israel took over with its establishment in 1948 and should be allowed to maintain their nomadic ways.
The proposed legislation reflects concern among some officials that Bedouin are taking over the Negev, which accounts for more than half of Israel's land mass. Bedouin opponents distrust the government's motives and say it is trying to reduce their footprint in the desert area. The government's previous attempt at urbanizing Bedouins, with their networks of tribal and clan lines, resulted in the establishment of seven towns that are among Israel's most impoverished.
Firebombs
More than 1,000 demonstrators blocked roads outside the Negev town of Hura yesterday to protest the resettlement plan, some of them throwing rocks and firebombs at riot police, police spokesman Micky Rosenfeld said. Protests also took place in Jerusalem, Haifa and 20 other locations with 40 demonstrators arrested and 15 police lightly injured, Rosenfeld said.
"We will treat offenders to the fullest extent of the law and will not tolerate such disturbances," Netanyahu said in a statement read over the phone to reporters by an aide. "We will continue to advance the law for a better future for all residents of the Negev."
Doron Almog, a retired general coordinating government policy toward the Bedouin, told reporters on a conference call that Israel would take a "step-by-step" and "sensitive" approach to move the Bedouin into modern housing and attributed the rioting to "extremists who don't represent the majority of the Bedouin population."