Biden Pushes Trade Pact as China Air Zone Overshadows Visit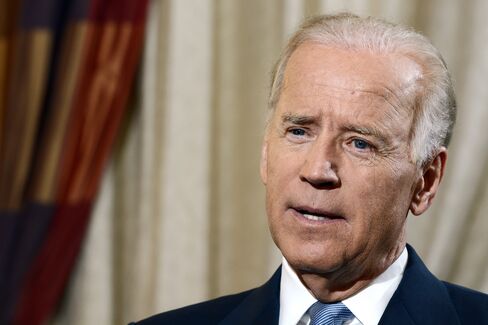 Vice President Joseph Biden arrives in Japan today on a trip to demonstrate the American commitment to the Asia-Pacific and defuse tensions over a Chinese air defense zone that drew criticism from the U.S. and its allies.
Biden will seek to push toward an agreement with Japan on the 12-nation Trans Pacific Partnership trade deal during his trip. He then heads to China, where U.S. officials say he will ask leaders to clarify their intent with the zone, and visit South Korea later this week to discuss North Korea's nuclear program.
Tension over the zone may give new momentum to a U.S. rebalance toward Asia and strengthen trade ties with nations concerned at China's growing military and economic power. Biden can call on personal ties to President Xi Jinping to calm the dispute over the zone, which covers islands in the East China Sea also claimed by Japan and has been the site of repeated overflights in recent days by airplanes from the U.S., Japan and South Korea.
"America's muscular approach to China adds meat to its Asian pivot, and may add impetus to the TPP talks," said Jun Okumura, a visiting scholar at the Meiji Institute for Global Affairs. "The more resolute the U.S. behaves on issues with China, the more it will be positive for the TPP."
Biden must persuade allies that American leaders are sincere about the rebalance toward the Asia-Pacific region and away from the Middle East. President Barack Obama canceled a trip in October to Asia because of the U.S. debt impasse, sending Secretary of State John Kerry in his place.
Lew's Visit
Biden arrives less than a month after U.S. Treasury Secretary Jacob Lew traveled to the region to seek progress on the TPP with a year-end deadline for the pact less than a month away.
Biden's trade agenda has been overshadowed by the air defense zone, which spurred the biggest crisis in the area since Japan bought some of the islands from their private owner last year.
The State Department on Nov. 29 urged U.S. airlines to notify Chinese authorities before flying through the defense zone, even as the American military conducts daily flights in the area without such notification. Japan has told its airlines to stop providing flight plans to China.
China's Foreign Ministry spokesman Hong Lei said at a briefing in Beijing today that the filing of flight plans by countries including the U.S. shows that they're willing to cooperate with China over the zone.
'Erroneous Action'
"On the other hand Japan is deliberately politicizing the issue," Hong said. "We urge the Japanese side to stop this erroneous action."
Japan's Deputy Chief Cabinet Secretary Hiroshige Seko said there was no gap in policy between it and the U.S. and officials would use Biden's visit to reaffirm that.
"The U.S. government has made it clear it cannot accept China's demands," Seko said at a briefing in Tokyo today. "So there is not even a millimeter in difference between the positions of the Japanese and U.S. governments."
Biden planned to spend today and tomorrow in Tokyo before going on to Beijing and then to South Korea. He will demonstrate the "rock-solid" commitment the U.S. has to its allies, according to an administration official who briefed reporters Nov. 27 on condition of anonymity.
China Talks
Taiwan President Ma Ying-jeou said countries concerned about the zone should hold talks with China as soon as possible and avoid elevating tensions, the Central News Agency reported Dec. 1. Taiwan also claims sovereignty over the East China Sea islands and Ma has called for restraint and dialogue over "conflicting standpoints" on claims to the islands.
A TPP accord, which includes Japan though not China and South Korea, would link an area with about $28 trillion in annual economic output. On Nov. 29, South Korean Finance Minister Hyun Oh Seok said his country should hold talks with TPP countries, though he said "expressing interest" in the partnership doesn't amount to a decision to join.
"Rebalancing toward the Asia Pacific remains a cornerstone of the Obama administration's foreign policy," U.S. National Security Adviser Susan Rice said in a speech in Washington on Nov. 20. She said the "foremost" U.S. economic goal in the region is wrapping up negotiations on the TPP.
While in China, Biden will meet with Xi and Premier Li Keqiang and ask for more information about the zone, which overlaps with one maintained by Japan. A treaty with Japan obligates the U.S. to help defend its ally if attacked.
Good Relationship
Biden will rely on his connection with Xi to ease strains. Xi dined at Biden's home in 2012 when Xi was vice president, and, by Biden's own account, they have spent about 20 hours in conversation. Xi played host a year earlier, when Biden won Chinese state media praise for eating at a restaurant where the bill for his group of five was 79 yuan ($13.)
"Biden is a guy who's going to hold this relationship together -- he and Xi have a very good relationship," according to James McGregor, a Beijing-based former chairman of the American Chamber of Commerce in China. "That's a channel where two people can speak openly with each other and try to keep things calm.'"
While in China, Biden also may seek progress on a separate trade agreement, called a bilateral investment treaty, that resembles the TPP and was revived earlier this year. The two sides may try to conclude the deal during Biden's visit, according to Sun Zhe, director of the Center for U.S.-China Relations at Tsinghua University in Beijing.
China's Dilemma
If China's able to walk back anxiety over the zone, it may also face an easier time setting up its own free trade agreement with South Korea and Japan. Even with tensions running high in the last year over the island dispute, Japan's exports to China rose 21.3 percent in October from a year ago.
"It is a dilemma for China who wants to form a free trade agreement with Japan and South Korea to counter the TPP," said Hideo Kumano, chief economist at Dai-ichi Life Research Institute. "The hard-line course on the diplomatic front goes against its economic aspirations."