ThyssenKrupp Plans to Boost Capital, Sell U.S. Plant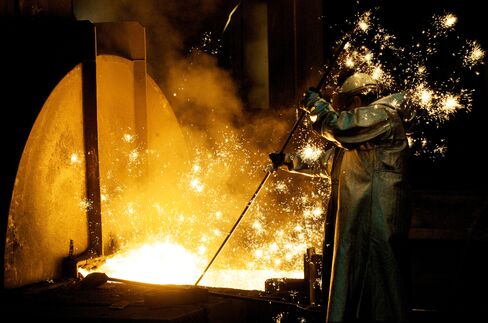 ThyssenKrupp AG plans to sell equity equivalent to as much as 10 percent of its market value as the largest German steelmaker found buyers for a U.S. plant that was part of the 202-year company's worst investment.
ThyssenKrupp agreed to sell its U.S. steel plant to ArcelorMittal and Nippon Steel & Sumitomo Metal Corp. for $1.55 billion, the Essen-based company said yesterday in a statement. The transaction includes the Alabama facility and a six-year agreement to purchase 2 million metric tons of slab annually from ThyssenKrupp's Brazil CSA plant.
"As clarity has now been achieved for Steel Americas and the group can better assess the compliance risks, ThyssenKrupp is planning a capital increase, the timing of which will be decided depending on capital market conditions," the company said in the statement. "We are asking a lot of you, our shareholders," Chief Executive Officer Heinrich Hiesinger wrote in a letter to shareholders.
The company has spent the past 18 months trying to dispose of plants in Alabama and Brazil's Rio de Janeiro state. Steel Americas helped wipe 14 billion euros off its parent's market value since 2008 and forced it to abandon dividends.
The assets ThyssenKrupp agreed to sell are "the better part" of Steel Americas, Chief Financial Officer Guido Kerkhoff said on a call with analysts today, after telling an Essen press conference that a hybrid, convertible bond in addition to the capital increase "remains part of the tool box."
Financial Links
ThyssenKrupp had a market value of 9.91 billion euros ($15.5 billion) at the close of trading yesterday.
Hiesinger is seeking to diversify as waning demand from automakers and builders and competition from China has pushed prices and profits lower. He plans to expand operations from elevators to auto parts and marine services.
ThyssenKrupp will terminate all financial links with Outokumpu Oyj, it also said in the statement. It will exchange a loan note against all shares of the VDM and AST units and some smaller stainless-steel service centers it sold to the Espoo, Finland-based company that bought its Inoxum stainless-steel unit last year. That caused a writedown of 279 million euros, Kerkhoff said today.
ThyssenKrupp will also sell its 29.9 percent holding in the Finnish steelmaker which "is likely to lead to a loss of over 270 million euros," according to ThyssenKrupp's annual report.
Nippon Steel
Nippon Steel and ArcelorMittal, the world's biggest steelmakers by market value, will be able to make the Alabama plant "more valuable," Shinya Higuchi, Nippon Steel's executive vice president, told reporters today in Tokyo. "We have a solid customer base in the U.S. market," he said in reference to the company's Japanese carmaker customers such as Toyota Motor Corp.
The venture will be funded with cash and borrowing, and the cost is "relatively low" for the Tokyo-based steelmaker, Higuchi said. The Alabama plant will be the ArcelorMittal-Nippon group's second site in the U.S., adding to a facility in Indiana.
Higuchi said the purchase is part of its strategy to focus on higher-end steel for cars -- a market in which it has a technological edge over lower-cost Chinese suppliers.
Possible Loss
ThyssenKrupp reported a net loss of 1.4 billion euros for the year ended in September, its third consecutive loss, and said it won't pay a dividend for the fiscal year.
ThyssenKrupp forecast that earnings before interest and taxes from continuing operations, excluding one-time items, will increase 67 percent to about 1 billion euros in the year through September 2014. On a net basis Hiesinger targets a "clear-improvement toward break-even earnings," he said at today's press conference where he didn't rule out a net loss. "We will need perseverance."
ThyssenKrupp currently controls 73 percent of the CSA steel plant in the state of Rio de Janeiro. Vale SA, the largest iron-ore producer and a supplier to the plant, owns the rest.
The German company built the Brazilian facility, with a capacity of 5 million metric tons a year, to supply steel slabs to its mill near Mobile, Alabama, and in Germany.
ThyssenKrupp's origins date back as far as 1811, when Friedrich Krupp and two partners set up a factory to make cast steel and products, according to the company's website.
Before it's here, it's on the Bloomberg Terminal.
LEARN MORE