Police Helicopter Crashes Into Glasgow Pub During Concert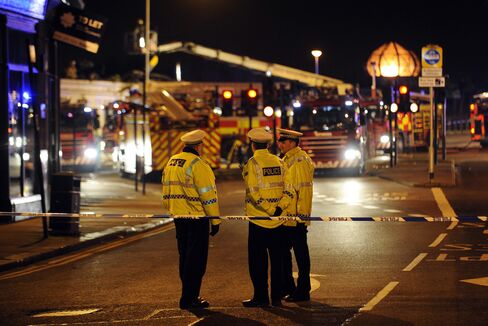 People remained trapped after a police helicopter crashed into the roof of a pub in downtown Glasgow, Scotland's biggest city.
Police Scotland said 32 people have so far been taken to hospitals across Glasgow without confirming any fatalities. Sky News reported that at least six people may have died, citing people it didn't identify. Emergency services including Scottish Fire and Rescue Service remain at the scene, the authorities said.
"We are working hard to recover people still inside the building," said Police Scotland Deputy Chief Constable Rose Fitzpatrick in a statement. "We will make further details available when we have them."
The crash happened at the Clutha Vaults pub on Stockwell Street at 10:25 p.m. yesterday. BBC reported that as many as 120 people may have been in the building which was hosting a live music event. Police said the helicopter involved was a Eurocopter EC135 T2 with two police officers and a civilian pilot on board.
The site has been contained and a full investigation by police into the incident has begun, according to a statement. The Air Accident Investigation Branch is also carrying out an investigation, police said.
"Given an incident of this scale, we must all prepare ourselves for the likelihood of fatalities," Scottish First Minister Alex Salmond said in a message on Twitter.
'Pile of People'
The band Esperanza, playing in the pub at the time, said all of its members were safe.
"It seems that the band are all ok, not so sure about everyone else," Esperanza said on their Facebook page.
Witnesses described the moment the helicopter struck the building.
Scottish Labour MP Jim Murphy said he saw a "pile of people clambering out" of the bar as he was driving past.
"I jumped out and tried to help," he told reporters in televised comments. "There were people with injuries. Bad gashes to the head. Some were unconscious. I don't know how many. The helicopter was inside the pub. It's a mess. I could only get a yard or two inside. I helped carry people out."
Gordon Smart, editor of the Sun's Scottish edition, said he saw the helicopter come down.
"I was in a car park and looked up and saw a helicopter which I think was a police helicopter," Smart told Sky News. "It was just such a surreal moment. It looked like it was dropping from a great height at a great speed. There was no fire ball and I did not hear an explosion. It fell like a stone. The engine seemed to be spluttering."
Grace MacLean, who was inside the pub at the time of the crash, told BBC News "there was no bang, there was no explosion."
"The band were laughing and we were all joking that the band had made the roof come down," MacLean said. "They carried on playing and then it started to come down more and someone started screaming and then the whole pub just filled with dust. You couldn't see anything, you couldn't breathe."
Before it's here, it's on the Bloomberg Terminal.
LEARN MORE