Chinese Equity Indexes Cap Monthly Advance on Reform Optimism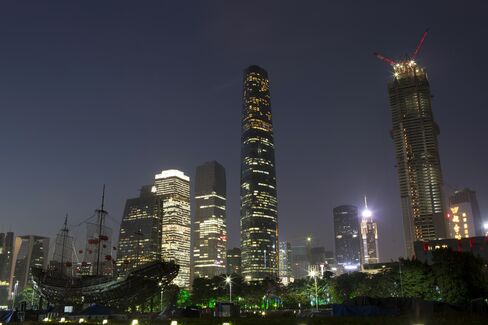 China's stocks capped monthly gains after the government announced the biggest package of policy changes since the 1990s.
The Shanghai Composite Index climbed 3.7 percent in November after President Xi Jinping pledged to ease restrictions on private investment and the one-child policy. The Hang Seng China Enterprises Index rallied 7.7 percent in Hong Kong this month, the most since December.
Shaanxi Aerospace Power Hi-Tech Co. jumped 10 percent today as Chinese warplanes flew over the country's new air-defense zone after Japan sent aircraft into the area without warning. Shandong Denghai Seeds Co. climbed among agricultural stocks after Xi said the nation should push for rural reforms and give farmers more rights. Inner Mongolia Baotou Steel Rare-Earth Hi-Tech Co. and Jiangxi Copper Co. led losses by materials producers in Shanghai.
"Investors have good expectations about coming policies and reforms," said Wang Weijun, a strategist at Zheshang Securities Co. in Shanghai. "The market will probably have some consolidation at this level before resuming gains."
The Shanghai Composite added 0.1 percent to 2,220.50 at the close today, after falling 0.3 percent earlier. Trading volumes were 2.6 percent below the 30-day average. The measure gained 1.1 percent this week. The CSI 300 Index slipped less than 0.1 percent to 2,438.94 today. The Hang Seng China index added 0.5 percent, paring a weekly loss to 0.1 percent.
The CSI 300's gauges tracking industrial, technology and material producers rallied more than 4 percent this month, while utilities declined. China is liberalizing policies in an effort to bolster an economy that's heading for its weakest annual expansion since 1999.
Equity Valuations
Investors should buy Chinese stocks as government reforms boost prospects for the "least-expensive" emerging markets, Goldman Sachs Group Inc. said in a report on Nov. 26.
The Shanghai Composite trades at 8.7 times projected profit for the next 12 months, while the Hang Seng China is valued at 7.5 times, data compiled by Bloomberg show. That compares with the MSCI Emerging Markets Index's 10.7 multiple.
Shaanxi Aerospace surged by the 10 percent daily limit to 17.33 yuan. Jiangxi Hongdu Aviation Industry Co. climbed 10 percent to 22.57 yuan.
The flights yesterday by Chinese fighter jets and an early warning aircraft were normal patrols, Shen Jinke, an air force spokesman, was quoted as saying by state news agency Xinhua. Japanese Air Self-Defense Force aircraft entered the zone on a regular patrol, Chief Cabinet Secretary Yoshihide Suga said.
Agriculture Shares
Shandong Denghai Seeds advanced 2.5 percent to 36 yuan. Zhejiang Qianjiang Biochemical Co., a maker of pesticides, rallied 2.7 percent to 6.07 yuan.
Baotou Rare-Earth lost 2.8 percent to 26.51 yuan today after surging 8.4 percent yesterday. Jiangxi Copper, China's biggest producer of the metal, fell 1.4 percent from its highest level in a month to 15.23 yuan.
Chinese government data due this weekend are expected to show manufacturing slowed this month. The Purchasing Managers' Index will fall to 51.1 from 51.4 in October, according to the average estimate of 26 economists surveyed by Bloomberg. A reading above 50 indicates expansion.
China Zhongwang Holdings Ltd. fell 3.1 percent to HK$2.53 after the supplier of aluminum to the transportation and machinery industries said it plans to sell as much as HK$4.3 billion ($555 million) of shares.
China is likely to maintain 2014 economic growth at 7.5 percent or higher, the China Securities Journal said, citing Wang Yiming, deputy director of the macroeconomic research institute at the National Development and Reform Commission.