Mouton '09 Drops to 14-Month Low Amid Pressure on Bordeaux Wines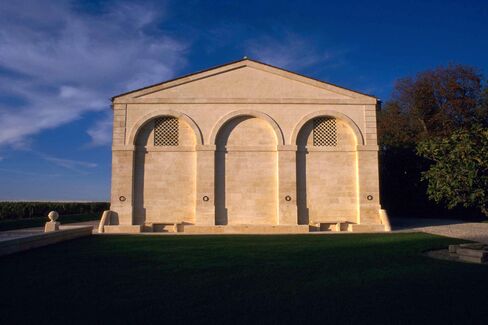 A case of 2009 Chateau Mouton Rothschild, a Medoc first-growth wine estate, sold for 5,059 pounds ($8,240) on Liv-ex in the past week, its lowest level for 14 months amid weakening demand for top Bordeaux vintages.
The sale, on Nov. 22, was 14 percent below its 2013 high in June of 5,850 pounds and took the wine to its lowest level since a trade at 4,800 pounds in September 2012, according to data on the London-based market's Cellar Watch website. Six bottles traded yesterday at the equivalent of 5,006 pounds a case.
The Liv-ex Fine Wine 50 Index tracking top Bordeaux wines is heading for its seventh monthly decline in the past eight, having given up all of the gains it made in the first 10 weeks of the year. The index has fallen about 8 percent since mid-March as collectors and investors, deterred by prices of recent vintages, have diversified outside the region.
"You can't sell Bordeaux on the basis of 'it's going to be worth more in two or three years' time,' in the same way it was very easy to sell Bordeaux like that three or four years ago," Joss Fowler, Director of Fine Wine at London broker Fine+Rare, said in an interview. "There has to be intrinsic value."
The 2009 vintage of Mouton is 34 percent below the peak at which it traded in June 2010 after it was released to the market, and as Asian demand for Bordeaux first growths was still driving prices.
Grape Selection
The 2009 Mouton still ranks as the Pauillac estate's fourth most-expensive wine of the past 30 years, lagging behind only the 2010, 2000 and 1986 vintages, according to merchant prices collated by Liv-ex on its Cellar Watch website.
The 2009 Mouton was given a rating of 99+ points on a 100-point scale by U.S. wine critic Robert Parker in an online tasting note in February 2012, making it the estate's top-scoring wine since the 100-point 1986 vintage, according to data on the eRobertParker.com website.
Mouton Rothschild has 84 hectares (208 acres) planted with red-grape vines. The vines have an average age of 44 years and are planted at a density of 10,000 per hectare, according to Mouton's website.
The vineyard, owned by Baron Philippe de Rothschild SA, was promoted in 1973 to the ranks of the top Bordeaux first-growth estates on the left bank of the Gironde estuary, joining the four other estates designated in the classification drawn up for Napoleon III's 1855 Paris Exhibition.
Mouton has been under the control of the Rothschild family since being acquired by Baron Nathaniel de Rothschild in 1853. The property was developed extensively by Baron Philippe, who ran the estate from 1922 until his death in 1988, and since then has been managed by his daughter Philippine.
Before it's here, it's on the Bloomberg Terminal.
LEARN MORE