Deflation Trap Tests Riksbank's Resolve in Fighting Bubbles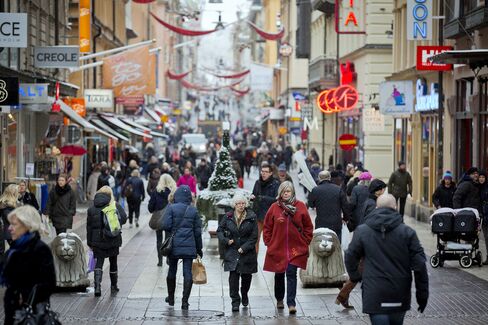 Nov. 29 (Bloomberg) -- How does a central bank tackle consumer price deflation and a potential credit-driven asset bubble at the same time?
That's the challenge facing policy makers at Sweden's central bank, which is planning to raise interest rates next year even as the price gauge it targets drops below zero. According to the Riksbank's former head of monetary policy analysis, the bank needs to rethink its stance on inflation.
"There may be a problem with the inflation target because that's what prompted households' high indebtedness," Robert Bergqvist, who is now chief economist at SEB AB in Stockholm, said in an interview. "We may have to look at the inflation target discussion one more time."
The dilemma underscores challenges central bankers elsewhere face as they confront a post-crisis landscape distorted by record-low rates that have mostly failed to drive inflation to targeted levels. Decades-old mandates to cap consumer prices, following two oil crises in the 1970s, are now proving less suited to tackling disinflation and even deflation.
Sweden's biggest labor organization, LO, an umbrella group for 14 of the nation's trade unions, says the lack of a credible inflation target is hampering wage setting.
The bank has "set an inflation target which they are finding difficult to reach," Ola Pettersson, LO's chief economist in Stockholm, said in an interview. "That of course hurts their credibility."
Record Borrowing
LO wants the Riksbank to cut its repo rate to 0.5 percent from 1 percent next month and to drop talk of tightening next year.
Yet cheap credit has flowed into asset markets, leaving owners more indebted than ever before and inflating house prices to record levels. Central banks in Switzerland and Norway are struggling with a similar price split.
In Sweden, household borrowing has topped 170 percent of disposable incomes, the highest ratio ever. Meanwhile, headline consumer prices fell 0.1 percent in October from a year earlier.
Knut Hallberg, an economist at Swedbank AB who worked under Riksbank Governor Stefan Ingves in the early 1990s when the nation was battling its most recent housing crisis, said history has taught policy makers that downplaying overheated property markets can backfire.
Latest Crash
"At the end of the 1980s and early 1990s, people had all kinds of explanations for why it was completely reasonable that commercial properties would just continue to rise," Hallberg said by phone. "But we all know what happened."
Back then, Sweden's real estate bubble burst, triggering a banking crisis that required the government to step in. Nordea Bank AB is in part the product of the ensuing state-engineered mergers.
Ingves, who is also chairman of the Basel Committee on Banking Supervision, says he's confident inflation will reach the bank's 2 percent target.
"If the Swedish economy functions and acts like it normally does, prices will rise," Ingves said on Nov. 14.
Most of the consumer price decline stems from weak commodities prices and the effect of globalization, factors the Riksbank has little control over, according to Bergqvist.
Missing Targets
The Riksbank said on Oct. 25 it will keep its repo rate at 1 percent until late next year, based on an assumption inflation will reach its target in December 2014. It's cut the 2014 inflation forecast in all but one of nine meetings since April last year.
"In one year, inflation expectations are at about 1 percent, but in five years they are pretty close to 2 percent, so we don't think the inflation expectations are a problem," Riksbank First Deputy Governor Kerstin af Jochnick told reporters today in Stockholm. "A rate cut will of course affect the economy, but what's really important to the Swedish economy at the moment is that the European economy gets going."
Futures contracts indicate more than a 50 percent chance the Riksbank will cut rates to 0.75 percent by March next year. The bank, which holds six rate meetings a year, announces its next decision on Dec. 17.
"If you look at the last few years it's pretty obvious, I think, that they haven't achieved their inflation target," Bergqvist said. "If you look ahead, we also know that they won't reach the inflation target."
Policy makers say they are aware of the concerns.
"How to measure inflation is a big, long-running academic discussion," Deputy Governor Cecilia Skingsley said on Nov. 19. "Retaining the general public's confidence in monetary policy makes it important to measure inflation in a way that households recognize."
The Costs
Some economists are now calling on the Riksbank to raise its price target to help regain credibility.
"There are good arguments why the inflation target ought to be higher at perhaps 3 percent," said Lars Calmfors, a professor at Stockholm University. "If you start with higher inflation it's easier to achieve negative real interest rates in a recession."
Skingsley and Ingves say rising household debt and property prices mean rates shouldn't be cut. Two of the bank's six board members argued in favor of a quarter-point cut last month.
According to Bergqvist at SEB, a rate cut may be more a question of preserving credibility than addressing inflation.
"I don't think that a lower interest rate will lift inflation," he said. "There are so may international impulses that affect inflation right now and that's something that's beyond the Riksbank's control."
To contact the reporter on this story: Johan Carlstrom in Stockholm at jcarlstrom@bloomberg.net
To contact the editor responsible for this story: Jonas Bergman at jbergman@bloomberg.net