Anbang Said to Study Purchase of Hong Kong's Wing Hang Bank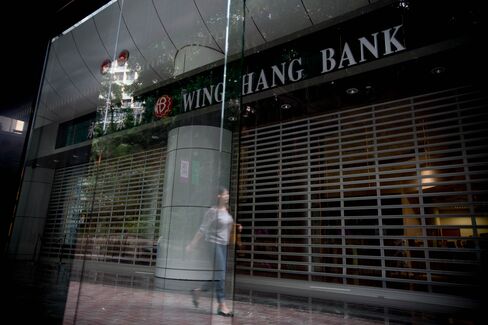 Anbang Insurance Group is among companies considering bids for Wing Hang Bank Ltd., Hong Kong's second-largest family-run lender, according to four people with knowledge of the matter.
Beijing-based Anbang, which offers insurance and asset management, has held talks to buy the 45 percent stake held by members of Chairman Patrick Fung's family, its affiliates and Bank of New York Mellon Corp., one of the people said. Wing Hang, with a market value of $4.5 billion, has also drawn interest from companies including Canada's Bank of Nova Scotia, said two of the people, who asked not to be identified as the deliberations are private.
Singapore's Oversea-Chinese Banking Corp. is considering a bid for Wing Hang, according to two other people familiar with the matter. Wing Hang is seeking a valuation of at least two times book value, one person said. The lender currently trades at 1.7 times book value, while the smaller Dah Sing Banking Group Ltd. trades at 1.1 times, data compiled by Bloomberg show.
"Hong Kong's status as the primary offshore renminbi center offers strategic value for financial institutions," Grace Wu, an analyst at Daiwa Capital Markets Hong Kong Ltd., said by phone today. "Hong Kong banks offer immediate access to China's banking market, and ones like Wing Hang and Dah Sing also offer sizable Macau operations."
An Anbang press official, who asked to not be identified because of company policy, said by phone the insurer has no current plan to buy Wing Hang. Scotiabank spokeswoman Ann DeRabbie declined to comment, as did Wing Hang spokeswoman Cherry Yung.
Cross-Border Financing
Hong Kong's family-run banks, squeezed for years by larger competitors like HSBC Holdings Plc and Bank of China Ltd., are attracting interest from acquirers as the city's role in cross-border financing expands. Yue Xiu Group agreed last month to buy a majority stake in Chong Hing Bank Ltd. for $1.5 billion, the first acquisition of a Hong Kong lender since 2009.
Shares of Wing Hang climbed 3.3 percent to close at HK$112.30 today in Hong Kong. Dah Sing Banking, another family-run lender in the city, increased 3.1 percent to HK$14.04. The benchmark Hang Seng Index fell 0.1 percent.
Anbang, whose shareholders include state-owned Shanghai Automotive Industry Corp. and China Petrochemical Corp., has 510 billion yuan ($84 billion) of assets, according to its website. The company's property and casualty insurance unit recorded 5.49 billion yuan of premium income in the first 10 months of the year, data from the industry regulator show.
Asia Shift
Scotiabank, Canada's third-largest lender, will target growth in Asia after decades of expansion in Latin America, former CEO Richard Waugh said in October. The Toronto-based bank already owns a minority stake in Bank of Xi'an, a city lender in northwestern China. It withdrew a bid for a 20 percent stake in Bank of Guangzhou in July.
Wing Hang shares surged by a record 39 percent on Sept. 17, the day after it first announced acquisition talks. The stock has slid 6.3 percent since Sept. 24, when it closed at the highest since January 2008. Under Hong Kong takeover rules, a buyer of the 45 percent stake would have to make an offer for the rest of the company.
Any deal by Anbang will require regulatory approval from the China Insurance Regulatory Commission, one of the people said. The insurance regulator didn't respond to a fax seeking comment.
Wing Hang would give a buyer a network of 70 branches spanning Hong Kong, Macau and mainland China. Its presence across southern China's Pearl River Delta makes it a more attractive target than other smaller family-owned banks in the city, Daiwa's Wu said Sept. 17.
Dim Sum Bonds
Outstanding loans in Hong Kong made in China's currency surged to 107.1 billion yuan in September from 1.8 billion yuan in 2010, data from the Hong Kong Monetary Authority show. Outstanding yuan-denominated debt securities, known as Dim Sum bonds, jumped more than fivefold to 293 billion yuan at the end of September from 55.8 billion yuan in 2010.
Hong Kong banks have become targets for Chinese financial institutions seeking a platform to expand overseas. China Merchants Bank Co. paid $4.7 billion for the Wu family's Wing Lung Bank Ltd. in a deal completed in 2009. Two years earlier, China Construction Bank Corp., the country's second-largest lender, bought Bank of America Corp.'s Hong Kong and Macau unit for HK$9.7 billion ($1.3 billion).