Ukraine Needs Russia Resolution Before EU Deal, Yanukovych Says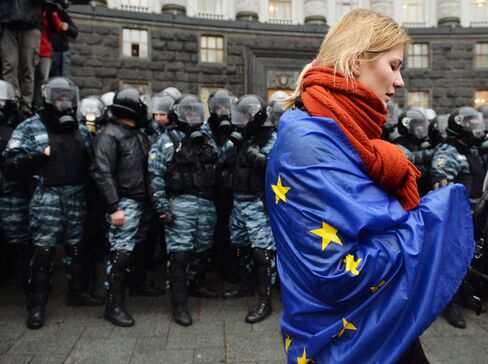 Ukraine needs to resolve issues plaguing its relationship with Russia before it can sign a free-trade agreement with the European Union, President Viktor Yanukovych said as he prepared to attend the bloc's summit.
Speaking in a televised interview, his first public comments since his government suspended preparations for an EU deal on Nov. 21, Yanukovych said today that he's still seeking to complete the accord before his term ends in 2015. Street protests continued, with opposition leaders urging the government to sign the accord this week.
"Today, we can't answer the question of when," said Yanukovych, who pledged to travel to the EU summit in Vilnius, Lithuania, that starts tomorrow, where the agreements were scheduled to be signed. "December will show whether it's possible to sign the agreement in spring next year."
The EU and Russia each buy about a quarter of exports from Ukraine, the second-most populous ex-Soviet country that's a crucial energy transit route. The collapse of the trade deal has sparked the biggest demonstrations since the 2004 Orange Revolution that helped overturn Yanukovych's election victory.
Ukraine shouldn't have to chose between Russia and the EU as countries "must be able to decide freely" about their international relations, German Chancellor Angela Merkel told reporters in Berlin today. She will meet Yanukovych at the EU summit, she said.
"We have to get over this either-or mentality," Merkel said. The Cold war is over.''
CDS, Bonds
Five-year credit-default swaps, contracts insuring Ukrainian debt against non-payment, declined to 926 basis points on Nov. 25, the lowest on a closing basis since Oct. 24. They rose 13 basis points today to 980, the third-highest in the world after Argentina and Venezuela, according to data compiled by Bloomberg.
The yield on government bonds due 2023 rose to 9.82 percent by 4:15 p.m. in Kiev from 9.72 percent yesterday.
More than 100,000 people marched through Kiev on Nov. 24. to protest against the government, which says it wants to improve ties with Russia, which had threatened trade sanctions if it signed the EU accord. The protests continued today.
Forty-five percent of Ukrainians think that the country should sign the EU agreement, according to a survey by GfK Ukraine on Oct. 2 to 15, while 14 percent would prefer the Russia-led Customs Union and 15 percent said the country should stay away from both. The poll of 1,000 Ukrainians has a margin of error of 3.1 percentage points.
'No Agreement'
Russia hasn't offered to review its natural gas supply contract with Ukraine, President Vladimir Putin said yesterday in Trieste, Italy. The two countries haven't agreed on new loans according to Ukrainian Prime Minister Mykola Azarov.
"There is no agreement on any Russian loan, nor about its size or term," Azarov said yesterday in a statement. Russia and Ukraine will meet "at the beginning of December, where we plan to agree on a so-called road map to resolve all those problems and disputes we have."
Ukraine owes about $20 billion to Russian banks and more than $30 billion in total to Russia including "loans and quasi-loans," Putin told reporters in Italy. Russia wants to work with Ukraine on the outstanding debt regardless of its decision on the EU trade pact, he said.
Halting preparations for the deal was in the nation's economic interest and the country may yet sign it when the terms are right, Yanukovych said. That may be "soon or not very soon," he said.
'Normal Conditions'
"When we meet on normal conditions that meet our interests, then we'll have a conversation about signing," Yanukovych said. "I want this time to come as soon as possible."
Countries in the Russia-led customs union would "immediately stop free trade with Ukraine" if the country signed the EU deal, costing the country 400,000 jobs, Azarov said in parliament today.
The government's "sudden change of course" threatens to "seriously damage the predictability and credibility of the business environment," the European Business Association in Kiev, which represents more than 900 companies, said on its website today. "Political risk, the country's risk premium and the cost of doing business in Ukraine have all increased significantly as a result of this decision."
Russia tightened customs checks on Ukrainian exports in August after banning products from chocolate producer Roshen. Trade between the two neighbors plunged by a quarter this year, contributing to Ukraine's third recession since 2008.
Sanction Lifted
In a sign that tensions are easing, Russia said yesterday that it may let Roshen gradually resume shipments after its consumer watchdog discussed quality control with Ukrainian officials.
While Putin said last week that he doesn't oppose Ukraine's EU plans, he suggested trilateral talks with Ukraine and the 28-member trading bloc, which has rejected the proposal.
In Kiev, demonstrations at Yanukovych's about-face continued.
Ukrainians again gathered yesterday evening in Kiev, something opposition leaders have urged them to do every day until the authorities agree to sign the EU deal. Jailed ex-Premier Yulia Tymoshenko, whose release for medical treatment abroad had been sought by European officials, said Nov. 25 that she'd begun a hunger strike.
'Should Pay'
Tymoshenko's fate is "not today's question," Yanukovych said. She "should pay her fines and then she can ask for a pardon," he said, adding that her case shouldn't prevent an EU deal.
The EU was wrong to assume the main problem was Tymoshenko's jailing, Polish President Bronislaw Komorowski was cited as saying by the newspaper Gazeta Wyborcza today. He urged the trading bloc to offer Ukrainians a chance for visa-free travel to boost their aspirations for European integration.
"The problem is the policy of pressure and blackmail being employed against Ukraine by its eastern neighbor," Komorowski said, according to Gazeta Wyborcza. "The Western world can't acquiesce in this. This isn't how strategic decisions should be made. Ukraine's choice between East and West should be its sovereign decision."
The EU is ready to discuss a deal this week, according to Lithuanian Foreign Minister Linas Linkevicius, whose nation holds the EU's rotating presidency. Signing a deal later "may be difficult" as pressure from Russia "won't disappear," he told reporters in Vilnius today.
The next "logical time" to sign an agreement would be during an EU-Ukraine summit in the spring, he said.
"Should the situation change and Ukraine say 'yes, we want it,' we'll meet and talk on what can be done," Linkevicius said. "Ukraine isn't making a U-turn. It's taking a pause to sort out how to respond to the artificial and deliberate obstacles by Russia."