Rousseff's Blessing Lures Analysts to the Light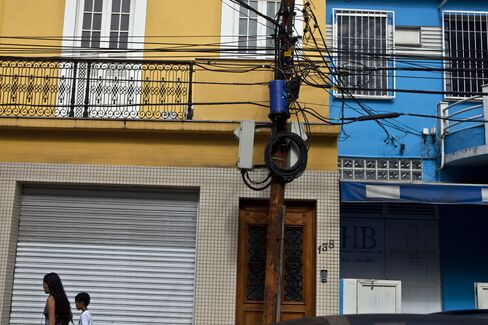 Light SA is piling up buy ratings at the fastest pace among Brazil's major stocks after the power utility won a reprieve from President Dilma Rousseff's push to lower electricity prices.
The consensus analyst rating for Light, which distributes energy in Rio de Janeiro state, rose to 3.82 from 3.13 on Nov. 5, when regulators approved a 3.7 percent price increase for home customers, reversing a preliminary finding in August that found rates should fall 3.3 percent. A consensus rating of five would mean the stock has only buy recommendations.
Light's 9.6 percent gain in the past month is the best performance by a Brazilian electricity stock and comes after utilities posted the biggest losses in Brazil last year, when Rousseff said license renewals would only be given to companies that agreed to cut prices to curb inflation. While Light's 2.7 billion reais ($1.2 billion) of investments over the past five years to expand distribution and reduce theft prompted regulators to grant its request for higher rates, Centrais Eletricas Brasileiras SA and Eletropaulo Metropolitana SA have the lowest consensus ratings among members of the Ibovespa stock benchmark after they were ordered to lower electricity prices.
"This rate increase takes a weight off the stock," Vitor Leonardo Sousa, an analyst at GBM Brasil who rates Light a buy, said in a phone interview from Sao Paulo. "Now the company is free from any regulatory risk to focus on its projects, which should spur good profits and dividends for investors."
Rate Increase
Aneel, as the utility regulator is known, granted a "fair" rate increase that was in line with the company's expectations, according to Joao Batista Zolini, Light's chief financial officer.
"The stock had declined a lot on concern that Light would suffer the same as other utilities that had reviews below their estimates, so now we're just recovering from that drop," Zolini said in a phone interview from Rio de Janeiro.
Light's surge since Oct. 25 reduced its decline in 2013 to 4.7 percent.
Grupo BTG Pactual, Banco J. Safra SA and EVA Dimensions recommended buying the stock in November after the rate increase. Aneel's decision will boost Light's earnings in the coming quarters, BTG's analysts Antonio Junqueira and Joao Pimentel wrote in a note to clients on Nov. 11.
Eletrobras, Eletropaulo
Aneel this year ordered three of Eletrobras's six distribution companies to cut rates by as much as 11 percent, according to an e-mailed response to questions. The state-controlled company, Brazil's biggest power utility by revenue, has the worst consensus recommendation among Brazilian power utilities, with three sells, no holds and no buys for the voting shares. Eletropaulo, the fifth-biggest, has the second-worst consensus, with 10 sells, two holds and one buy.
Eletropaulo is working to improve its operational efficiency and reduce costs and debt, the company said in an e-mailed response to questions. As a result its shares have been "rising on the stock exchange in the past six months and the company has already presented results above analysts' expectations," the utility said.
Shares have gained 15 percent since May. The company's adjusted net income almost doubled to 27 million reais in the third quarter of this year from 2012, while the average estimate among four analysts surveyed by Bloomberg was for an adjusted loss of 130.5 million reais. Aneel's press office declined to comment. Eletrobras declined to comment on its distribution units' rate cuts and the analysts' view on the stocks in an e-mailed response to questions.
Consumer Benefit
Marcio Zimmermann, acting Minister of Mines and Energy, defended the government's move to lower electricity prices, saying utilities had already recouped their investment in power generation, distribution and other infrastructure.
"We estimated that the new rules would reduce the rates to consumers by an average 20 percent, and that was what happened," Zimmermann said in a phone interview from Brasilia.
While the rate increase improved Light's earnings outlook, the company still faces a challenge to reduce power theft and fraud, according to Beatriz Nantes, an analyst at the equity research firm Empiricus. Zolini said the company spent 1 billion reais to fund efforts to cut such losses over the past five years and plans to double that amount in the next five years.
"The company had some success in cutting losses in some slums in Rio de Janeiro," Nantes said in a phone interview from Sao Paulo. "But it's still a big problem."
Light is involved in 14 power generation projects, including the Belo Monte hydroelectric dam in the Amazon and wind farms, expected to start operating from 2015 to 2017, according to the company's third-quarter earnings release.
"These projects are solid and mean almost guaranteed profit and dividends," GBM Brasil's Sousa said. "In a sector that was cursed by government, this is our top pick."
Before it's here, it's on the Bloomberg Terminal.
LEARN MORE