Qantas Rises After Hockey Moots Lifting Share Cap: Sydney Mover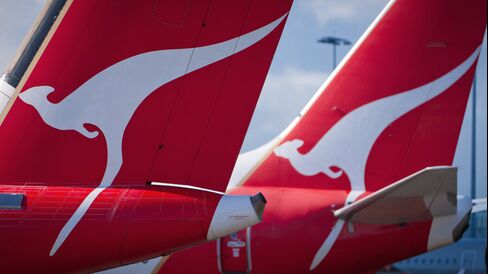 Qantas Airways Ltd. rose the most in seven weeks after the government said it was considering whether to lift a cap on foreign ownership of the airline to "level the playing field" with Virgin Australia Holdings Ltd.
The stock rose 3.8 percent to close at A$1.225 in Sydney on volume more than two-and-a-half times the three-month average. The 1992 Qantas Sale Act restricting foreign ownership in the airline is out of date and the carrier may need taxpayer support if it's not revised, Australia's Treasurer Joe Hockey said in an interview today with 3AW radio.
Qantas Chief Executive Officer Alan Joyce called on staff in an e-mail Nov. 18 to lobby politicians against a share sale by second-ranked Virgin, which could lift foreign airlines' holdings of its stock as high as 70 percent. Virgin is in effect "majority-owned by foreign state-owned enterprises" Hockey said, referring to shareholders Air New Zealand Ltd., Singapore Airlines Ltd., and Etihad Airways PJSC, Hockey said.
Virgin's shareholders have supported its challenge to Qantas via the capital raising and "Qantas can match Virgin by getting Emirates involved," Ian Myles, an analyst at Macquarie Group Ltd. in Sydney, said by phone. The Dubai government-owned carrier allies with Qantas on international routes. "If you take away foreign ownership restrictions, why is one owned by three foreigners while the other isn't?" Myles said.
Qantas shares have fallen 18 percent this year, compared to a 15 percent gain in the benchmark S&P/ASX 200 index and a 5.6 percent fall in Virgin.
Capital Raising
Brisbane-based Virgin's three airline shareholders have promised to buy as much as A$220 million ($201 million) of new stock through a capital raising announced Nov. 14. That's providing the airline with funds for a market-share battle that had previously left it short of cash. Joyce has forecast Qantas's yields will drop to their lowest level since at least 2003 as a result of domestic and international competition.
"With the foreign-government airline ownership of Virgin Australia, and the flood of funds that come with it, the market has fundamentally changed," Joyce wrote in an e-mail to staff after Hockey's comments today. Virgin is pursuing an "anti-competitive strategy aimed at crippling Qantas", he wrote.
Analysts have cut their estimates of Qantas's full-year net profit by A$193 million since Virgin announced its had taken a A$90 million loan from its major shareholders Aug. 30.
Net Loss
Qantas will make a net loss of A$46 million in the year ending June 30, its second shortfall since the former government-owned carrier was part-privatized in 1993, according to the average of seven estimates compiled by Bloomberg.
The Qantas Sale Act prevents foreign ownership of the airline rising above 49 percent. Total ownership by foreign airlines can't exceed 35 percent, and the largest stake permitted to any foreign investor is 25 percent, according to the law that's incorporated into Qantas's company constitution.
The growth of airlines from the Middle East and China has changed the aviation market and the act is out of date, Hockey said today.
Qantas's growth "is impeded in part by the restrictions the parliament has placed on their share registry," he said. If Australia doesn't want the carrier taken over by a foreign company it "needs to decide whether it is prepared to pay a taxpayer price for owning a national carrier," he said.
Shadow transport minister Anthony Albanese said in an interview with Australian Broadcasting Corp. television that he wouldn't back a change to the law and favored "perhaps a small equity take up by a government entity."
Market Share
Qantas has to be Australian-owned to meet the requirements of air services agreements through which Australia negotiates airline capacity with other countries, Albanese said.
The Qantas Sale Act "is a matter between the government and Qantas", Virgin said in an e-mailed statement.
"A level playing field should include a full and proper investigation of our major competitor's 65 per cent 'line in the sand' policy," the statement said. Joyce has vowed to maintain a 65 percent share of Australia's domesic market because he thinks that level maximizes Qantas's profits.
In the e-mail to staff today, Joyce said changes to the act wouldn't happen fast enough for "the urgent and immediate matters at hand".
Qantas gets no subsidies, tax benefits or concessions, or preferred access to airports or government business, he wrote. "Most countries recognize the importance of their national carriers and provide support for them."