Indonesia Plans Dollar Debt as Barclays Predicts Record 2014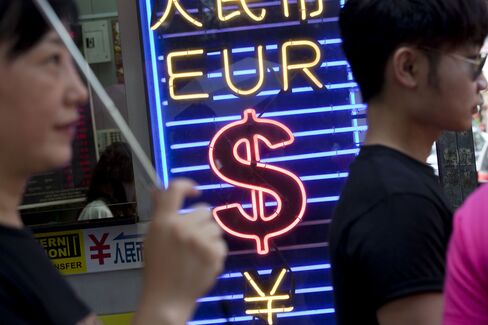 Indonesia is planning a sale of U.S. dollar-denominated global bonds next year as Barclays Plc predicts issuance in 2014 will exceed this year's record.
Southeast Asia's largest economy expects to raise 19 percent of its debt financing next year from notes denominated in dollars, euro or yen, Robert Pakpahan, a director general at the finance ministry's debt management office, said today. The Philippines yesterday hired six banks to arrange a series of investor updates next week, two people familiar with that matter said, and a benchmark-sized global bond sale is being considered, according to Treasurer Rosalia de Leon.
U.S. currency note sales in the region outside Japan this year reached a record $123.6 billion last week, exceeding 2012's all-time high of $121.4 billion, according to data compiled by Bloomberg. Yield premiums were at 282.6 basis points on Nov. 26, close to a six-month low, JPMorgan Chase & Co. indexes show. Companies refrained from marketing securities today as Thanksgiving approaches in the U.S.
"This week will be quiet with Thanksgiving but we're forecasting issuance in 2014 to be another record year," said Krishna Hegde, Barclays Singapore-based head of Asia credit research. "While the performance of bonds this year may not have been that strong, we'll still have many corporates and sovereigns looking to fund in the dollar market."
Sales Trimmed
Dollar bonds in Asia have returned 0.03 percent this year to date, Bank of America Merrill Lynch indexes show. That compares with 14 percent for the same period of 2012 and is the least since 2008, when the notes lost 17.3 percent.
Indonesia sold less than half the bonds offered at its debut sale of domestic dollar debt earlier this week, while Thailand issued 37 billion baht ($1.2 billion) of government-backed notes after offering about double that. Some investors are shunning emerging-market assets as prospects grow the U.S. Federal Reserve will start cutting its $85 billion monthly bond-buying program soon.
South Korea's Dongkuk Steel Mill Co. was the last company in the region excluding Japan to sell dollar debt, raising $100 million via a sale of floating-rate notes due 2015 on Nov. 22, Bloomberg-compiled data show.
Strong Pipeline
Hong Kong telecommunications company Pacnet Ltd., China XD Plastics Co., Xinyuan Real Estate Co. and a Bank of China Ltd. unit are all planning securities in the U.S. currency, according to people familiar with the matters. Dollar-note sales from Chinese companies are surging as companies seek lower borrowing costs amid record yuan bond yields.
The cost of insuring corporate bonds from non-payment in Japan and Australia increased today.
The Markit iTraxx Japan index rose 0.5 of a basis point to 79.25 basis points as of 9:13 a.m. in Tokyo, Citigroup Inc. prices show. The gauge is poised for its biggest one-day advance since Nov. 19 and its highest close since Nov. 22, according to data provider CMA.
The Markit iTraxx Australia index increased 0.5 of a basis point to 101 as of 11:22 a.m. in Sydney, according to Westpac Banking Corp. The benchmark, which has ranged from 100.4 to 139.8 this half, is also set for its highest close since Nov. 22, according to CMA, which is owned by McGraw-Hill Cos. and compiles prices quoted by dealers in the private market.
The Markit iTraxx Asia index of 40 investment-grade borrowers outside Japan was little changed at 132 basis points as of 8:14 a.m. in Hong Kong, Australia & New Zealand Banking Group Ltd. prices show. The measure has ranged from 99.5 basis points and 177.8 basis points this year, according to CMA.
Credit-default swap indexes are benchmarks for insuring bonds against default and traders use them to speculate on credit quality. A drop signals improving perceptions of creditworthiness, while an increase suggests the opposite.
The swap contracts pay the buyer face value in exchange for the underlying securities if a borrower fails to meet its debt agreements. A basis point is 0.01 percentage point.
Before it's here, it's on the Bloomberg Terminal.
LEARN MORE