Ford Really Wants to Escape Its Recall Woes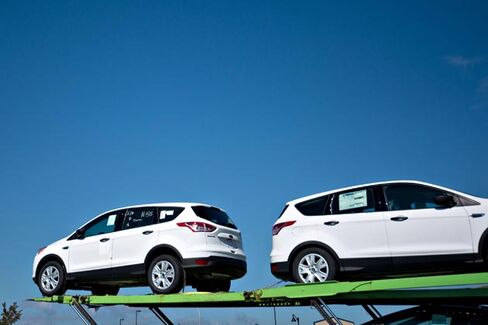 Does Ford Motor have a lemon on its hands? The company on Nov. 26 issued two recalls to address problems that could cause fires in its 2013 Escape SUV. The recall tally for the 2013 model of the hot-selling sport utility now totals seven, and may speak to a larger reliability problem for the No. 2 U.S. automaker.
The latest trouble comes a month after Ford ranked near last in a Consumer Reports ranking of auto manufacturers' reliability. Of 31 Ford models in the survey, only one—the F-150 pickup truck—scored above average. The magazine said nearly two-thirds of the 34 Ford and Lincoln models it surveyed received scores that were "much worse than average."
"Ford has kind of redone the entire product lineup very, very quickly, and they have redone the vehicles top to bottom," says Jake Fisher, director of Consumer Reports auto testing. "Quite honestly, I think they bit off more than they can chew with so many new products with so many new pieces."
In a statement, a Ford spokeswoman noted that the company is committed to manufacturing quality vehicles and "equally committed to addressing potential issues and responding quickly on behalf of our customers." The spokeswoman says the recall is voluntary. "While we recognize the inconvenience recalls cause our customers, we believe they will appreciate these actions, which we are taking [on] their behalf to help ensure their safety," the statement said.
The larger of the two recalls announced Tuesday covers nearly 140,000 Escapes with 1.6 liter engines. The company says cylinder heads can overheat and crack on that model and cause oil to leak, potentially starting a fire. Ford said it knew of 13 fires from the defect, but no reports of injuries. A similar problem led to a recall in December 2012 of more than 65,000 2013 Escapes and 15,000 Fusion sedans. The second recall covers about 9,500 of the same model to fix a fuel line that may have been installed incorrectly and could chafe, potentially leaking fuel in the engine compartment. Ironically, this recall appears to have been caused by an earlier fix done as part of a July 2012 recall of the Escape. Ford had told dealers to replace fuel lines, which may have been damaged. But incorrect installations might also have resulted in potential chafing.
The quality woes are an unwelcome turn at Ford, which has gotten rave reviews for the styling of its current car and truck lineup. The problems began several years ago after the company decided to refresh its entire line simultaneously as a way to top domestic rivals and were exacerbated by glitches in the MyFord Touch, the communications and entertainment system Ford co-developed with Microsoft. But Ford's previous lineup of cars and trucks had one big advantage—reliability. "They were right up there with the Japanese because they had worked the bugs out," Fisher said.
Before it's here, it's on the Bloomberg Terminal.
LEARN MORE