Co-Op Bank Bonds Plunge as Holders Find Access to Shares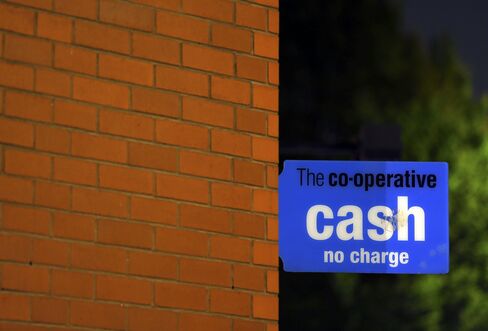 Bonds of Co-Operative Bank Plc plunged as investors cut their holdings to tap an offer of cheaper shares in the lender as it seeks to swap debt for equity to mend its balance sheet.
The company's 275 million pounds ($448 million) of 9.25 percent subordinated bonds due April 2021 fell 7.3 pence on the pound to 64 pence yesterday, the lowest since May 13, according to Bloomberg generic prices. The 235 million pounds of 7.875 percent subordinated bonds maturing December 2022 slid 6.45 pence to 64.79 pence, a two-month low. The securities traded up 1.19 pence and 0.57 pence today.
Co-Operative Group Ltd., based in Manchester, England, has asked bondholders to accept shares in the bank as it seeks to plug a 1.5 billion-pound capital hole following provisions on bad loans, writedowns on computer systems and compensation to customers who were mis-sold loan insurance. Investors are offered about 103 pounds of new bonds and 897 pounds of shares priced 7.77 pounds per 1,000 pounds of dated bonds.
"People that are in this are in it for the shares, and if you can do this part of the deal, you can get more shares for your money, so people are selling some lower tier-2s to take advantage of that," said Roger Francis, a credit analyst at Mizuho International Plc in London.
Holders of dated bonds who sign up to the bank's plan to raise capital can buy 50,000 shares for 2 pounds apiece. That compares with the 7.77 pounds a share in the exchange offer, according to the prospectus. Only the first 1,250 subscribers will acquire the cheaper stock.
Co-Operative Group, a mutual whose businesses range from supermarkets to funeral parlors, was last month forced to give up its banking unit to help ease a capital hole at the division. Bondholders will own as much of 70 percent of the bank after swapping their bonds for stock and injecting 125 million pounds of new equity into the lender.