Clearblue Wins Over the Pregnancy-Test Market
Clearblue is winning over the pregnancy-test market with the help of new technology and reality stars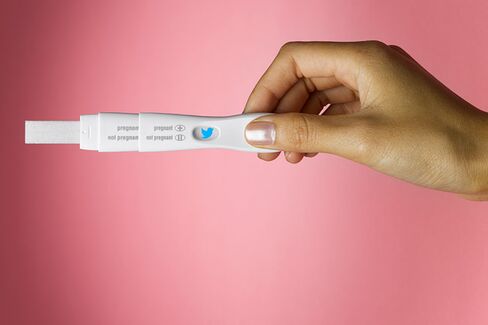 In October two celebrities posted pictures of their positive pregnancy tests on Twitter. Kendra Wilkinson—former Playboy bunny, now on WEtv's Kendra on Top—tweeted, "Round two. Here we go!! :)" on Oct. 31 with the hashtag #ClearblueConfirmed. She included a smiling selfie featuring a Clearblue Advanced Pregnancy Test with Weeks Estimator, which confirmed she was more than three weeks along. This was quickly retweeted 1,500 times, and more than 5,000 fans marked it a favorite. Nine days earlier, Melissa Rycroft, erstwhile Bachelor contestant, tweeted using the same hashtag about expecting her second child. The post was sandwiched between musings on Funyuns and hair conditioner.
Clearblue's Weeks Estimator, which hit stores in May, uses new technology that informs if you're one-to-two weeks, two-to-three weeks, or three-plus weeks pregnant. Standard kits test urine for the hCG hormone—if it's there, you're with child—but this innovation measures the concentration of that indicator. And while it may seem bizarre for Clearblue to advertise a new product by having D-list celebrities tweet pictures of pee sticks, it's actually smart marketing.
Swiss Precision Diagnostics (SPD), the maker of Clearblue, is capitalizing on an Internet trend: The Web is littered with hundreds of thousands of young women revealing pregnancy-test results in YouTube videos, Instagrams, and Facebook photos. Clearblue's brand manager, Kirsten Suarez, says the company reached out to Wilkinson and Rycroft to tweet their positive pregnancy tests after seeing many customers post the news on its Facebook page.
SPD, a venture between Procter & Gamble and Alere, has a 25 percent share of the $228 million pregnancy-testing industry. It competes with Insight Pharmaceuticals, which makes e.p.t tests, and Church & Dwight, which makes First Response. Clearblue pioneered the hCG concentration test, and it may woo Gen Y consumers, says IbisWorld researcher Jocelyn Phillips. "Millennials want things to be as high-tech as possible, and they're having kids later, so they have the disposable income," she says. These women might be willing to pay more—the digital test costs about $20 for two, compared with the standard test at $15 for two. (Insight Pharmaceuticals and Church & Dwight are likely working on similar advancements, she says.)
Analysts predict the industry will grow an annualized 1.5 percent in the next five years because of a postrecession baby boom, yet Phillips anticipates a pregnancy-test plateau. As more young women become eligible for health insurance through the Affordable Care Act, they can visit doctors for more accurate results. In the late 1970s, when home pregnancy tests hit the market, one of their biggest appeals was the privacy factor. In 2013 most women, regardless of marital status, aren't embarrassed to go to the obstetrician.
But Clearblue is betting on it being more fun for women to post pictures of their results online, from the comfort of their own bathroom. The visit to the doctor's office doesn't trump a few hundred favorites from friends.
Before it's here, it's on the Bloomberg Terminal.
LEARN MORE