U.S. Sent B-52s Into China Air Zone, Official Says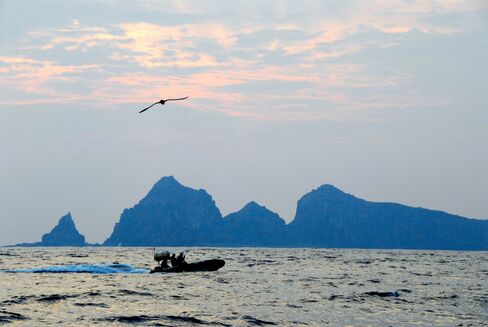 Nov. 26 (Bloomberg) -- The U.S. flew two unarmed B-52 bombers into a disputed air-defense zone claimed by China, the first test of China's response amid escalating tensions in the region that have implications for international air travel.
The flight of bombers into China's newly claimed zone occurred without incident, according to a U.S. defense official. The area includes three islands in the East China Sea that are owned by Japan, a major U.S. ally, and have been at the center of a dispute between Asia's two biggest economies.
China announced the air-defense identification zone effective Nov. 23 and said its military will take "defensive emergency measures" if aircraft enter the area without reporting flight plans or identifying themselves.
Japan, which denounced the move, told its airlines to stop providing flight plans to China. Within hours of that request, ANA Holdings Inc. and Japan Airlines Co., the country's two biggest carriers, said they would stop reporting flight plans for planes traveling through the zone.
China's action poses a "direct threat" to the U.S. military in the region and raises the risk of escalation if it isn't resolved, said Patrick Cronin, senior director of the Asia-Pacific Security Program at the Center for a New American Security in Washington.
Wider Contest
"China will not back off, and Japan will not back off, and the United States will support Japan," Cronin said. "What has been a maritime contest has now become an air and maritime contest."
China and Japan both are seeking bigger roles in the region at the same time President Barack Obama has a goal of reasserting U.S. military and economic influence there. Major powers are asserting themselves as they hunt for new sources of growth in trade with the emerging economies of southeast Asia.
Vice President Joe Biden is scheduled to travel to China and Japan next week and Obama plans to take a postponed trip to Asia in April.
The two U.S. bombers flew from Guam and spent less than an hour in the China-claimed zone as part of an annual training exercise, said the defense official, who asked not to be identified discussing the deployment.
No Chinese aircraft were observed at the time of the U.S. flights, the official said. The flights, part of a long-planned exercise, occurred last night Washington time and took several hours to complete, the official said. The flights were reported earlier today by the Wall Street Journal.
U.S. Rejection
The U.S. defense official said there's no expectation of an armed conflict arising from the air-defense zone dispute.
The Pentagon said yesterday that the U.S. won't abide by China's identification rules.
"We view this development as a destabilizing attempt to alter the status quo in the region," Defense Secretary Chuck Hagel said in a Nov. 23 statement in response to China's announcement. "This unilateral action increases the risk of misunderstanding and miscalculations."
The main focus of Biden's trip, which includes South Korea, is negotiations on the Trans-Pacific Partnership trade agreement. The vice president's office said his meetings with China's leaders will be on "global and regional issues of mutual interest."
China's announcement of the air zone, denounced by Japanese Prime Minister Shinzo Abe, marks one of the most serious escalations in tensions since September 2012, when Japan bought three disputed islands in the East China Sea that now lie within the contested zone.
Disputed Islands
China and Japan both claim sovereignty over the islands, which are known as Diaoyu in Chinese and Senkaku in Japanese. The surrounding waters are rich in oil, natural gas and fish.
China is "resolute in its will and resolve" to defend its sovereignty over the islands, Foreign Ministry spokesman Qin Gang said in Beijing on Nov. 25. The current situation is "totally caused" by Japan's "erroneous actions," Qin said.
While the U.S. hasn't taken sides in the territorial dispute, it recognizes Japan's administration of islands in the area that are the center of the tensions.
The dispute has already been played out at sea, including confrontations in which Chinese vessels were accused of targeting Japan's forces with weapons-guiding radar systems.
The flight by U.S. bombers may have been designed in part to discourage Japan from taking any actions that could aggravate tensions further, said Anne-Marie Slaughter, president of the New America Foundation, a public policy institute in Washington.
"We are saying to Japan, 'Do not respond, we are here,'" Slaughter said at a forum today held by the Center for New American Security.
Robert Kaplan, a senior fellow at the center, called the U.S. flights a "show of force in defense of Japan" that underscores how seriously the U.S. is taking China's action.
To contact the reporter on this story: David Lerman in Washington at dlerman1@bloomberg.net
To contact the editor responsible for this story: John Walcott at jwalcott9@bloomberg.net