Big Banks Cut Basel Shortfall by $112 Billion at End 2012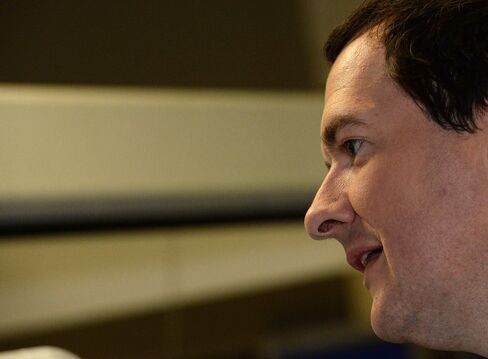 Nov. 26 (Bloomberg) -- Chancellor of the Exchequer George Osborne gave more ground to lawmakers demanding tougher banking rules, saying the Bank of England will get to review how it can limit banks' debt levels.
With the Financial Services Bill today returning to the House of Lords for two days of debate, Osborne yesterday conceded to critics of payday loan companies, agreeing to a cap on their charges. Today, allowing the Bank of England to review how the leverage ratio should be set, he agreed to one of 10 demands by members of the parliamentary inquiry into banking standards. Other amendments to the bill introduced by committee members deal with pay, and whether the government needs a reserve power to separate retail and investment banking.
"My view has been that a minimum leverage ratio is a vital component of the overall capital framework," BOE Governor Mark Carney said in a letter to Osborne released by the Treasury. "If I were to choose just one reason why Canadian banks fared as well as they did through the crisis, it would be because they were subject to a leverage standard."
The question of bank regulation is back in the political spotlight after the former chairman of Co-Operative Bank Plc, Paul Flowers, was filmed by a newspaper buying crack cocaine. Yesterday, a report by a government adviser accused Royal Bank of Scotland Group Plc of deliberately forcing troubled companies into bankruptcy in order to boost its own profits. Carney today said the RBS allegations were "deeply troubling and extremely serious."
'Remarkable, Shocking'
"If these activities proceeded on any sort of scale, it's remarkable -- OK, it's shocking," Carney told lawmakers in London. "It's a failure of governance."
The Parliamentary Commission on Banking Standards was established under the leadership of Andrew Tyrie, who chairs the House of Commons Treasury Committee by Osborne in the wake of the Libor-rigging scandal. In its report in June, it advocated delays of as long as a decade for bonus payouts and making the reckless management of lenders a crime.
In an effort to get some of its recommendations into law, Osborne added them to the existing Financial Services Bill, which was already passing through Parliament. The bill before the Lords today has increased in size to 177 pages from its original 35. Tyrie warned in an interview published Nov. 8 that the bill risked becoming a "botched job," with "amendments piled on amendments piled on amendments."
First Vote
In the first vote of the evening, the government defeated by 229 votes to 220 an amendment that would have forced the break-up of banks with both retail and investment arms.
The leverage ratio is designed to be a backstop to capital requirements, helping to contain excessive debt funding.
The BOE's review should evaluate the "impact of the introduction of the leverage ratio on the ability of the banks to support growth in lending to U.K. consumers and businesses," Osborne said in a letter to Carney today.
The review, to be conducted by the BOE's Financial Policy Committee, will take about a year and assess how it should be applied to banks with separate commercial and investment arms, its impact on lending and what should be the minimum "standard required to ensure the system is sufficiently resilient," Carney said in his letter.
Banking Commission
Tyrie welcomed the concession.
"It comes close to implementing what the Banking Commission recommended almost a year ago," he said in an e-mailed statement. "It was pretty clear from his evidence that the Governor wants the FPC to be granted the power to set the leverage ratio and that his FPC colleagues agree. The Bank's review will be about how the FPC will exercise that power, not whether it should request it."
The Basel Committee on Banking Supervision said in March that the biggest global banks had an average leverage ratio of 3.8 percent versus a target of a 3 percent ratio for banks' equity to debt. Barclays Plc, the U.K.'s second-largest bank by assets, has raised 5.8 billion pounds ($9.4 billion) in a rights offering to bolster capital, in an effort to meet requirements imposed by U.K. regulators.
Under the Basel plan, banks will have to begin disclosing how well they measure up to the leverage rule from 2015. The Basel III capital requirements are scheduled to phase in fully by 2019.
Royal Bank of Canada said in a note that the review was a "positive" move, removing a risk that the FPC would simply recommend a higher ratio in the Nov. 28 Financial Stability Report. "The timing on the recommendation is now pushed out until mid-2015 since the review is expected to last 12 months and will not commence until early-mid 2014 once Basel 3 and the Recovery and Resolution frameworks are finalized," it said.
To contact the reporters on this story: Ben Moshinsky in Brussels at bmoshinsky@bloomberg.net; Robert Hutton in London at rhutton1@bloomberg.net
To contact the editor responsible for this story: Anthony Aarons at aaarons@bloomberg.net