Bayer in Talks to Buy Partner Algeta for $2.4 Billion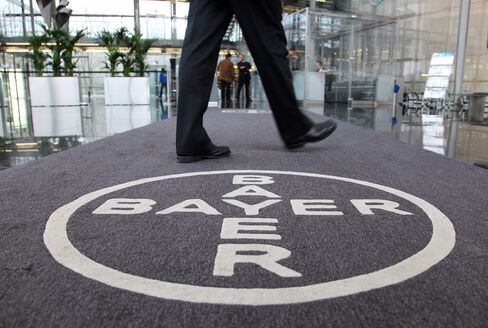 Bayer AG is in early talks to acquire Norwegian partner Algeta ASA for about 14.8 billion kroner ($2.42 billion), a move that would give Germany's biggest drugmaker full control of a prostate cancer medicine and a pipeline of experimental radiation therapies.
Algeta received a preliminary offer for 336 kroner a share, the Oslo-based drugmaker said in a statement today, following a report on the approach by German newspaper Frankfurter Rundschau. The proposal values Algeta at 27 percent more than yesterday's closing price of 264.6 kroner. The shares rose to 345.20 kroner, suggesting investors expect a higher bid.
Bayer is funding some medical trials for Algeta's medicine Xofigo, and buying Algeta would mean it doesn't need to share profits or pay royalties on the medicine. The German drugmaker will probably need to spend more than it's offering now for its partner, Guillaume van Renterghem, a London-based analyst for UBS AG, said in a telephone interview.
"If you believe consensus, they should pay way more than that," Van Renterghem said. "They should probably pay $3 billion." He raised his rating on Algeta shares today to neutral from sell.
Bayer is offering Algeta shareholders a smaller premium than other biotechnology companies have gotten over the past five years. Acquirers paid an average 56 percent premium in deals larger than $100 million, according to data compiled by Bloomberg.
New Medicines
Algeta had the biggest gain since 2011, rising 30 percent to close at a record 345.20 kroner in Oslo. Bayer fell 0.3 percent to close at 95.79 euros.
Bayer is one of the last remaining European drug and chemical conglomerates. Chief Executive Officer Marijn Dekkers said in September it's on the "right path" as it pursues small- and mid-sized acquisitions for its drug unit as well as through research collaborations.
Guenter Forneck, a spokesman for Bayer, confirmed that the Leverkusen, Germany-based company made a preliminary offer and declined to comment further. Algeta said there's no guarantee Bayer's proposal will result in a deal, and spokesman Mike Booth declined to comment further on the talks. Neither company would say which banks are providing advice on the deal.
Bayer has said new medicines such as Xofigo will help drive its growth as earnings lag at its plastics division. Xofigo, also known as alpharadin, is among five drugs Bayer has tapped as having a combined sales potential of more than 5.5 billion euros ($7.5 billion) a year. Analysts expect the treatment to generate 494 million euros in sales by 2016, according to the average of seven estimates.
Prostate Cancer
The U.S. Food and Drug Administration cleared the companies' prostate-cancer medicine more than three months early for patients whose disease has spread to their bones. Xofigo is designed to treat the secondary cancer that has settled in the bones.
Prostate cancer is the most common cancer among men after skin cancer, according to the American Cancer Society. Johnson & Johnson in June agreed to pay as much as $1 billion to buy Aragon Pharmaceuticals Inc. and gain the closely held company's experimental prostate cancer drug. The company's lead compound would compete against Medivation Inc.'s Xtandi, Dendreon Corp.'s Provenge, and Xofigo.
Algeta said in March that there was broad industry interest in its thorium-227 technology. Thorium-227 is an alpha-particle emitting element that can be linked to monoclonal antibodies to create localized tumor-killing cancer treatments. Algeta is working with Sanofi, Ablynx NV, Affibody AB and Immunomedics Inc. in studying their monoclonal antibodies linked with thorium-227.
Bayer's offer values Algeta at about 29.1 times earnings before interest, tax, depreciation and amortization, according to data compiled by Bloomberg. Acquirers of biotechnology companies paid an average of 24.4 times profit in deals of $100 million or more in the past five years, according to the data.