Augusta National Golf Club Spends $8.3 Million for Parking Lot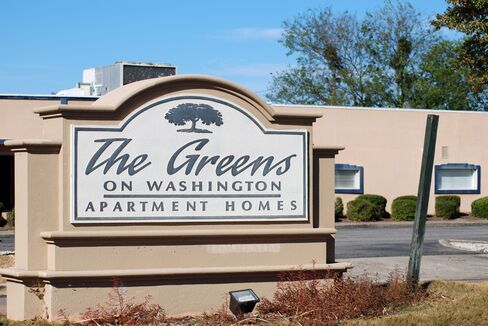 Augusta National Golf Club plans to build a parking lot on the site of a 456-unit garden apartment complex that was purchased for $8.3 million and is being razed, the club said.
The Greens on Washington Road, built in 1972, was purchased in February 2012, according to the Richmond County, Georgia, Board of Tax Assessors. By last week, it was mostly demolished. The private club, which hosts the Masters Tournament each April, plans to use the 9.8-acre site for parking and undisclosed support services, according to Augusta spokesman Steve Ethun.
"Any other commentary would be misleading and potentially create public speculation that is unnecessary," Ethun said in an e-mail. The club declined to comment further.
Since Billy Payne took over as the club's chairman in 2006, Augusta National has built $13 million worth of cabins and corporate entertainment facilities, including the two-year-old, 90,000-square-foot Berckmans Place inside the gates. There are no such club-operated structures outside the grounds and limited housing options for guests.
While it makes sense for the club to use it as a parking lot now, the land might eventually be the site of lodging or corporate-entertainment facilities for its members and commercial partners as the club caters more to business guests under Payne's leadership, said Steve Parry, who opened the 1018 Club, a corporate-entertainment house a half-mile from the main clubhouse, in 2005. Other than on-course cabins, current club visitors can stay at downtown Augusta hotels about 5 miles from the golf course.
Housing Shortage
"They never have enough room for their people in those little houses on the property," said Parry, owner of Golden International Inc.'s Golden Tickets, a Plano, Texas-based ticket broker.
Parry and other hospitality-home owners have watched the 81-year-old private club acquire nearby land over the past several years, and he said he doubts the apartment site would remain a parking lot for long.
"Obviously there was a purpose," he said. "They are going to grab whatever they can grab to further isolate themselves and keep from being bordered by homes. They ideally would like to move to the country. If they can't move to the country, they are moving the country to the course."
Many residents of Augusta, a city that last year had a median household income of $36,000 -- 39 percent less than the U.S. average -- list their homes for rent during the Masters with Diane Starr, owner of Corporate Quarters Inc., an Augusta-based housing-rental company. Rental prices during the tournament, the first of golf's four annual Grand Slam events, can range from $3,000 to $30,000 for the week, she said.
Long-Range Plans
Spending that much money on a parking lot might seem excessive, she said.
"But when you're landlocked and the tournament continues to improve every year and you have deep pockets, why not?" Starr asked.
If the club eventually were to construct housing on the site, it might affect the local market, according to Starr.
"It could dent the rental business, but I don't think it will destroy it," she said. "There will always be a market for private housing."
Three years ago, the club purchased and redeveloped 70 acres of land adjacent to its Berckmans Road entrance to use for tournament parking.
The apartment complex was behind a grassy area about a quarter-mile from the club's front gate that women's activist Martha Burk used to protest Augusta National's lack of female members in 2003 during the Masters. The club admitted former U.S. Secretary of State Condoleezza Rice and Rainwater Inc. partner Darla Moore as its first female members last year.
Spinoff Benefits
Parry, the ticket and hospitality seller, said he was pleased the club was developing areas across from its main entrance because it would increase the appeal of his venue off Washington Road, the main route for traffic near the tournament site.
In 2010, when the club opened its new Berckmans Road parking area, it also debuted a state-of-the art driving range inside its gates. The warmup area for players required the moving of 125,000 cubic yards of soil and about 2,000 trees and plants.
The driving range, which was under construction for six years, was previously a gravel parking lot.
Before it's here, it's on the Bloomberg Terminal.
LEARN MORE