Ice Glitch Forces Boeing's New Jets to Steer Clear of Storms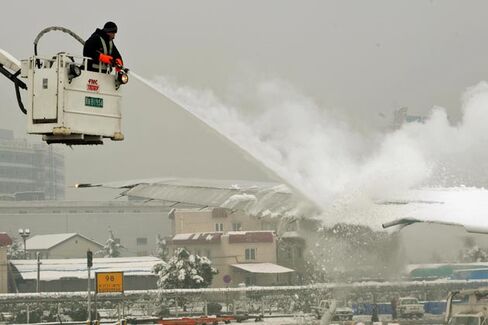 The latest teething problem for Boeing's new jets—high-altitude icing—has the aircraft manufacturer telling operators of its 787 Dreamliner and new 747-8 with General Electric's GEnx engines to stay at least 50 nautical miles away from high-altitude thunderstorms.
The warning is meant to avoid the accumulation of ice crystals in the engine, which can reduce its thrust. Since April, there have been six cases of the GEnx engine losing thrust because of core-engine icing. The engine comes in two versions, and five of the incidents have affected 747-8s, while one affected a 787.
This type of high-altitude icing occurs without warning and can cause engines to surge, lose thrust, or experience power "roll-backs" with little warning, Aviation Week reported. "The problem is unusual because it generally occurs at altitudes where atmospheric moisture levels are normally very low and because it impacts the high-pressure core of turbofans, previously thought to be virtually immune from significant icing," the magazine reported in August. The ice accumulation can also cause engine damage, as described in this detailed report of an incident over China involving a 747-8 flown by a Russian air cargo company.
As a result of the warning, Japan Airlines said Sunday that it will replace its 787s on flights from Tokyo to Singapore and New Delhi and won't fly the new planes to Sydney, owing to the sub-tropical zone that is home to frequent thunderstorm activity. United Airlines, a 787 customer, says it's talking with Boeing and GE Aviation about the problem and has made no changes on its 787 routes or schedule.
As with most new technologies, the solution to this icing problem lies in software. GE Aviation is working to modify the software on the engine so that if the engine detects such icing conditions, flight-control computers will open bleed valves to eject ice crystals collected behind the engine's fan. "The aviation industry is experiencing a growing number of ice-crystal icing encounters in recent years as the population of large commercial airliners has grown, particularly in tropical regions of the world," GE Aviation said in a statement. The software update will be certified in the first quarter and each installation will take about an hour, GE Aviation spokesman Rick Kennedy said today.
As if all that weren't hassle enough for airlines, ice on the ground could throw a monkey wrench into holiday travel plans for millions of Americans this week.
A storm system that spread ice and snow in New Mexico, North Texas, and Oklahoma is moving northeast and is expected to cause heavy rain and snow Wednesday along the East Coast. Airlines canceled more than 300 flights on Nov. 24 at Dallas-Fort Worth International because of the winter weather. As much as 12 inches is expected in some parts of upstate New York, Vermont, and Pennsylvania. "The timing of the impending winter storm could not come at a worst time with AAA projecting 43.4 million travelers during the Thanksgiving holiday weekend," as Accuweather.com put it.
Before it's here, it's on the Bloomberg Terminal.
LEARN MORE