Monty Python Knows Comedy Rock Stars Can't Be Too Old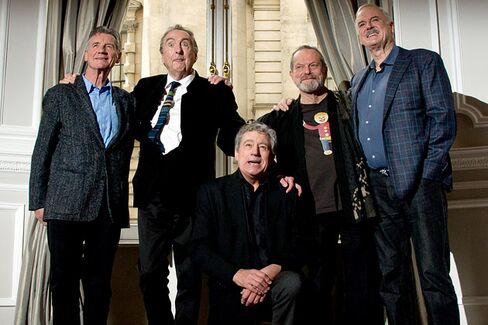 Once during a particularly boring stretch of a very long road trip, my boyfriend and I invented a game we called "Comedians as Rock Bands." The conceit is simple: Pick a comedian and find the corresponding musical act whose talent and reputation most closely mirrors his or her own. Here, I'll give you some examples:
• Lucille Ball is obviously Elvis Presley. They redefined what comedy and rock 'n' roll could be.
• Woody Allen is Bob Dylan. The voice of a generation who's still releasing new material of varying quality.
• Tina Fey is Arcade Fire. Brilliant, famous, should be even more famous.
• Richard Pryor is Jimi Hendrix. Both were visionaries, both died young, both set things on fire.
• Aziz Ansari is Grizzly Bear. Your parents haven't heard of either of them.
• Dave Chappelle was once Led Zeppelin, but now he's more like Brian Wilson.
• Sarah Silverman is the Killers. You really liked her for a while but now you can't remember why.
• Fran Drescher is Menudo.
The game lasted for hours. It also led to a heated argument at a seafood restaurant when my boyfriend refused to admit the most obvious comparison of all: Monty Python is the Beatles.
Think about it: They're both British, stronger together than any one individual member is alone, most members had successful solo careers, and both groups proved nearly universally popular despite their oddball proclivities for such things as dead parrots and Revolution 9. George Harrison's HandMade Films even produced Life of Brian. It's fair to say that Monty Python was once the Beatles of comedy.
That's why Thursday's press conference, in which the surviving Monty Python gentlemen announced their 2014 reunion show, was such a big deal as to be liveblogged by the Guardian.
At the press conference, John Cleese, Eric Idle, Michael Palin, Terry Jones, and Terry Gilliam announced a plan to perform at London's O2 Arena on July 1 for at least one show. This is the arena built for the 2012 London Olympics, with a capacity of 20,000 and ticket prices ranging from about $44 to $153—which, to be fair, is much less than the Beatles could've commanded. Monty Python stands to make somewhere from $900,000 to $3 million just on ticket sales for a single show. That's probably less than what Cleese wishes they could charge: In 2009 he launched a comedy tour aptly named "How to Finance Your Divorce"—later changed to "The Alimony Tour"—to pay off a multimillion-dollar settlement with his third wife.
Python will perform new material as well as their most famous sketches because, as Cleese put it, "People do really want to see the old hits." And do they ever. Bill Cobsy's first stand-up special in more than 30 years, Far From Finished, airs on Comedy Central on Nov. 23. At 76, the legendary Cosby has already embarked on a 48-stop national tour. David Cross, Bob Odenkirk, and Brian Poshen, from HBO's 1990s cult sketch comedy ensemble Mr. Show, played a handful of cities in September, with a proper reunion rumored for 2015.
And whenever Dave Chapelle emerges form hiding to perform a few shows, he inspires a slew of articles titled "Dave Chappelle is back!"—which just make him go back into hiding. Earlier this year, he headlined Funny or Die's up-to-$90-a-ticket Oddball Comedy Festival, playing to an adoring crowd of 14,000 in Austin and then refusing to perform at all in Hartford, Conn.
In July, meanwhile, when Woody Allen mentioned that he was thinking about possibly, maybe, some day returning to stand-up, even the New Yorker couldn't stop itself from covering the non-news news.
In an era when comedy, like all forms of entertainment, is shape-shifting into smaller, more granular iterations of itself—YouTube performers get their own TV shows, canceled shows with cult followings are revived on Netflix, Twitter comedians parlay their massive followings into sitcom writing gigs—the fact that there's still appetite for big, stand-up performances by the surviving titans of bygone eras is almost heartening. The Python tickets will no doubt sell out as soon as they go on sale Nov. 25.
Bill Cosby's special has been getting great reviews, except from the AV Club, which was disappointed that his comedy is too "safe." It's a fair criticism, and it's also why in the "Comedians as Rock Stars" game, he has always been Paul McCartney. Cosby's Far From Finished hasn't aired yet, and all we have from Monty Python at the moment is a formal promise. If they're successful—and they probably will be—they are sure to inspire a wave of elderly comedy acts going on tour. You know, like the Rolling Stones.
Before it's here, it's on the Bloomberg Terminal.
LEARN MORE