Paulson Said to Tell Clients He Won't Add More to Gold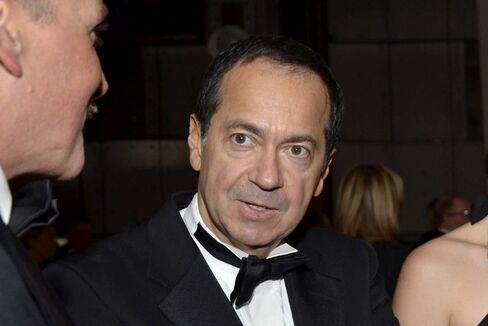 Nov. 21 (Bloomberg) -- Billionaire hedge-fund manager John Paulson told clients he wouldn't personally invest more money in his gold fund because it's not clear when inflation will accelerate, according to a person familiar with the matter.
Paulson, who has been betting that gold would rally as a hedge against inflation, has lost 63 percent year-to-date in the PFR Gold Fund, said the person, who was briefed on the returns and asked not to be identified because the information is private. The fund, which has shrunk to $370 million, with most of that John Paulson's own money, fell 1.2 percent in October, the person said.
Paulson, 57, started his foray into gold in early 2009, betting that bullion would rise as governments printed money to revive their economies following the 2008 financial crisis. Paulson & Co.'s main strategies have gained this year on bets in mergers, defaulted securities, convertible bonds and telecommunications, energy, insurance and asset-management companies.
The hedge-fund firm will maintain the fund's positions in gold stocks and let options related to bullion expire, Paulson said at the firm's annual meeting yesterday in Paulson & Co.'s New York office, according to the person.
Armel Leslie, a spokesman for $19 billion Paulson & Co. with WalekPeppercomm, declined to comment on the meeting and fund returns.
Bullion's Slump
Gold is heading for its first annual drop in 13 years as some investors lost faith in the metal as a store of value, fueled by concern that expected reductions in $85 billion of monthly bond buying by the U.S. Federal Reserve will ease the risk of accelerating inflation. Inflation expectations as measured by the break-even rate for five-year Treasury Inflation Protected Securities fell 12 percent this year.
Bullion has slumped 26 percent this year to $1,243.08 an ounce in London, falling as low $1,236.88 today, the lowest since July 9.
Hedge funds and other money managers have cut their net-long positions in gold to 55,456 futures and options as of Nov. 12, according to the latest data from the U.S. Commodity Futures Trading Commission. The holdings are down 48 percent this year.
Paulson this year changed the name of the gold fund to PFR Gold Fund, which stands for the initials of Paulson and gold specialists Victor Flores and John Reade, and started reporting returns separately from the firm's other funds. The firm told clients in a letter in June that it has no intention of closing down the strategy and recommended investors stay invested as valuations provide a "significant upside."
To contact the reporter on this story: Kelly Bit in New York at kbit@bloomberg.net
To contact the editor responsible for this story: Christian Baumgaertel at cbaumgaertel@bloomberg.net