ECB Said to Consider Minus 0.1 Percent Deposit Rate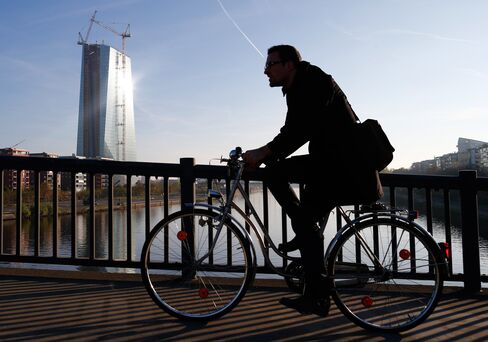 The European Central Bank is considering a smaller-than-normal cut in the deposit rate if officials decide to take it negative for the first time, according to two people with knowledge of the debate.
Policy makers would reduce the rate for commercial lenders who park excess cash at the ECB to minus 0.1 percent from zero, said the people who asked not to be identified because the talks aren't public. It would be the first time the central bank has adjusted interest rates by less than a quarter of a percentage point. The concept, which has been discussed by Governing Council members, doesn't yet have a consensus, the people said.
Members of the council, which is holding a mid-month meeting in Frankfurt this week, have said that a negative deposit rate is a potential tool for warding off deflation. They've also cautioned that the consequences of such an unprecedented measure aren't clear. The central bank this month refrained from cutting the deposit rate even as it reduced its benchmark lending rate to a record low of 0.25 percent, and Governing Council member Jens Weidmann has warned against further loosening of monetary policy.
A smaller reduction in the deposit rate "would make sense, given this is uncharted territory," said Nick Kounis, head of macro research at ABN Amro Bank NV in Amsterdam. "The ECB needs to do more to fight uncomfortably low inflation, which could expose the euro zone to deflationary risks."
Euro Decline
An ECB spokesman declined to comment on the council's deliberations.
The euro fell as much as 0.6 percent, the most in almost two weeks, and traded at $1.3467 at 4:34 p.m. Frankfurt time. Europe's Stoxx 600 index rose as much as 0.4 percent.
Inflation in the 17-nation currency bloc slowed to 0.7 percent in October, the slowest pace in four years and less than half the ECB's target of just under 2 percent. Economic growth was 0.1 percent last quarter, down from the 0.3 percent in the three months through June that marked the end of a record-long recession. The jobless rate is at a record 12.2 percent
ECB President Mario Draghi said on Nov. 7 that the central bank is "technically ready" for a negative deposit rate if the economic outlook warrants it. Executive Board member Peter Praet said in Hong Kong a week later that a rate below zero is possible.
Spurring Lending
Policy makers hope that the measure, obliging banks to pay to hold a liquidity cushion, would prompt them to lend cash to companies and households instead, the people said. At the same time, a negative deposit rate also risks curbing banks' profit as loan rates fall while the institutions may be unable to pass negative rates onto depositors.
By cutting by less than a quarter-point, the central bank could test the policy while minimizing disruption to the financial system, one of the people said. The ECB's next interest-rate decision will be announced on Dec. 5. Denmark currently has a deposit rate of minus 0.1 percent.
Any moves to ease monetary policy further will probably face resistance from Germany, the euro area's biggest economy. Bundesbank President Weidmann said in an interview with Die Zeit to be published tomorrow that it is not "sensible" to consider further monetary loosening. That would distract from the roots of the financial crisis, he said.