The New Kellogg Building Is Designed to Stimulate Ideas. The View Will Be Pretty Good, too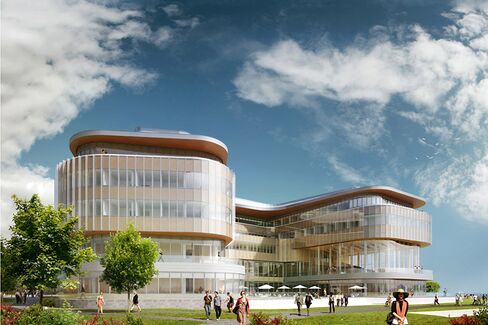 Five stories, 410K sq. ft., "dramatic vistas" of Lake Michigan and the Chicago skyline. State-of-the-art design by award winning Toronto firm, KPMB Architects, feels like the inner chambers of a Silicon Valley idea factory. Anticipated move in: late 2016.
If you're a Midwest entrepreneur looking for just the right space to incubate your dreams, we're sorry this is not a real estate ad. It is an incubator of a different sort—one that Northwestern University's Kellogg School of Management hopes will stimulate new ways of learning and generating ideas for future MBAs and business leaders.
On Nov. 14, Northwestern broke ground on a building that will house its Kellogg business school and the department of economics in the Weinberg College of Arts and Sciences. The building's designers visited innovative companies such as Google and Pixar to get a better understanding of how to create spaces that encourage collaboration.
The new building will have lecture-style classrooms that are designed to be flexible and easily converted to large seminar rooms. Offices in the new facility will be flexible, too; they can be converted into study rooms.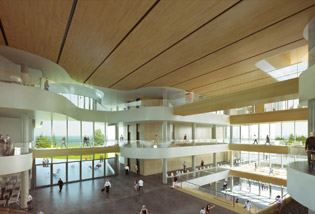 The highlight of the new building will be a two-story, 6,600-square-foot conservatory meant to be a gathering place for business leaders. The room will accommodate 250 people for dinner, or 350 people (no food) to hear speeches or presentations.
Construction on the building, which has yet to be named, will begin in early 2014. It should be ready by late 2016. Kellogg has posted additional artists' renderings of the new building on its website.
At the groundbreaking ceremony, Kellogg Dean Sally Blount announced the launch of a $350 million capital campaign that is halfway toward its goal, thanks in part to $17 million from the estate of James R. Russell. Russell, who died in 2011, was a Kellogg grad and former chief financial officer with Illinois Tool Works. The gift is the largest individual donation ever given to the school.
Before it's here, it's on the Bloomberg Terminal.
LEARN MORE