Spirit Airlines Stays Low-Fare, Low-Brow With a Classy Crack Joke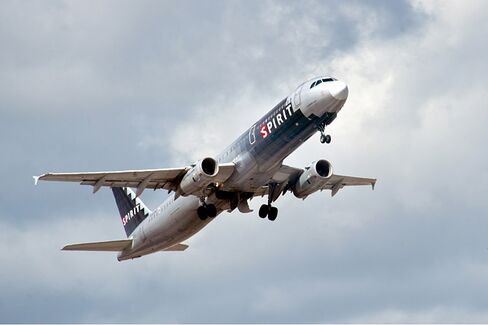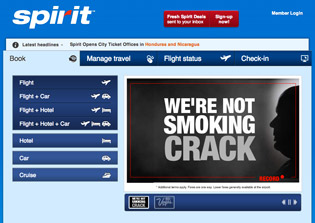 Spirit Airlines executives promise they are not smoking crack. The company's fares to Toronto really are less than $30, they say—at least some of them.
The scrappy Florida carrier has done it again—latching onto a controversial current event and refining it into social media rocket fuel via an off-color ad.
The latest ad is inspired by the protracted crack-smoking confessions of Toronto Mayor Rob Ford, whose saga has had a Harlem-Shake-size effect on pop culture outlets from Twitter to the Daily Show. (One small detail that's worth highlighting: The advertised flights land not in Toronto but in Niagara Falls, which Spirit calls the "Toronto area.")
At the same time, Spirit is touting its Florida fares with a nod to the bullying scandal at the NFL's Miami Dolphins. Those ads show a dejected businessman wearing a suit and a football helmet next to the tag line: "Don't be bullied by high fares."
The cheeky pitches join a canon of mildly controversial work from the Spirit ad team.
There was the Anthony Weiner-inspired sale featuring a hot dog wearing a mustache and sunglasses: "The Weiner Rises Again."
The airline offered its take on the U.S. Secret Service hiring Colombian prostitutes: "More Bang for Your Buck."
And there was a clever attempt to co-opt one of the world's largest environmental disasters: bikini-clad women and the tag line, "Check out the oil on our beaches."
Our personal favorite was the Mullet Sale: "Party in the back; business in the front."
Tasteless with poor production values? Absolutely. Funny? Only a tiny bit. Effective? Most likely.
The crass ads also seem to jibe with Spirit's approach to customer-service. The carrier gets dismal ratings from passengers, in part because it takes a no-frills, high-fee approach to air travel. Its passengers are also bombarded with messages throughout their flights, with ads plastered on luggage bins and seat-back trays. Lately, it has been pitching pouches of booze branded "Gasolina."
Even so, customers keep lining up for the low-fares and low-brow ads. In the past two years, Spirit's annual sales have increased almost 70 percent, and its revenue from fees has more than doubled. The Rob Ford-inspired sale ends at midnight Friday, though there's no telling how many limited $30 tickets Spirit will sell.
Before it's here, it's on the Bloomberg Terminal.
LEARN MORE